A Poppy can be any member of the genus Papaver, which contains about 70 species of annuals, perennials and biennial plants. Poppy plants are known for their bright flowers with crepe paper-like petals, interesting seed pods and useful seeds. All are native to temperate zones of the world. Most have four petals, often crinkled, resembling tissue paper or pleated fabric. Members of the poppy genus produce blooms in a variety of colors, including the iconic shade of red as well as white, ivory, cream, yellow, orange, pink, purple and blue.
Poppies generally release a sticky sap that looks like milk when they are cut. Poppies also sometimes have distinctive globe-shaped seed capsules. Other members of the larger Papaveraceae family, like Meconopsis, are commonly called poppies and may be perennial or biennial.
Most poppies do best when they are started from seed outside, as the plants generally do not transplant well. Plant seeds in the garden in the late fall or early spring in order to expose them to freezing and thawing cycles. Poppy seeds are small, so cover them lightly with fine soil and keep them moist but not soggy. Some poppies take a few weeks to germinate, so be patient when growing them from seed.
Opium Poppies (Papaver somniferum)
Corn Poppies (Papaver rhoeas)
Celandine Poppies (Stylophorum diphyllum)
Matilija Poppy (Romneya coulteri)
California Poppies (Eschscholzia californica)
Iceland poppy (Papaver nudicaule​)
Oriental Poppies (Papaver orientale)
Fire Poppies (Papaver californicum)
Hungarian Breadseed Poppies (Papaver somniferum 'Hungarian')
Himalayan Poppies (Meconopsis betonicifolia)
Welsh Poppy (Papaver cambricum)
Moroccan poppy (​Papaver atlanticum)
Spanish Poppy (Papaver rupifragum)
Flanders poppies (Papaver rhoeas)
Prickly Poppies (Papaver 'Argemone albiflora')
Mexican tulip poppy (Hunnemannia fumariifolia)
Alpine poppies (Papaver alpinum)
Purple Poppy Mallow (Callirhoe involucrata)
Opium Poppy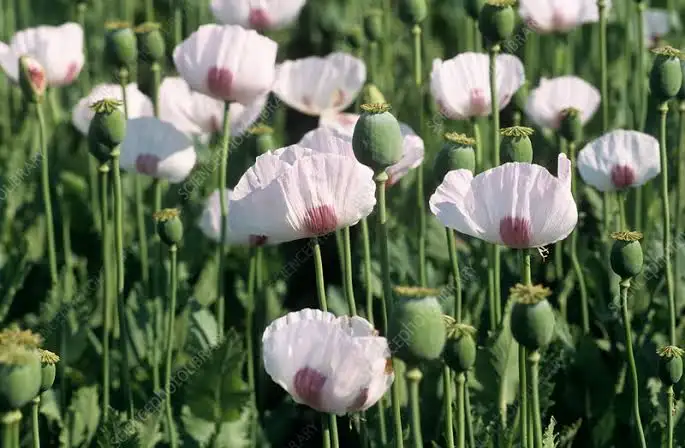 Opium poppy plant is strongly glaucous, giving a greyish-green appearance, and the stem and leaves bear a sparse distribution of coarse hairs. The large leaves are lobed, the upper stem leaves clasping the stem, the lowest leaves with a short petiole. Opium poppy grows up to 3 feet tall and has pink, white, bluish or apricot-colored flowers with 4 to 8 petals that are about 3 inches in length, sometimes with dark makings at the base. Seeds are oily and usually dark grey to black in color. In cooler climates, the plant grows as annual that reseeds itself, but in warmer climates it may grow year round. Opium poppies have been used for centuries for culinary and medicinal purposes. The Among the many varieties of poppies, only opium poppy (Papaver somniferum) is illegal to grow in the United States.
Corn Poppy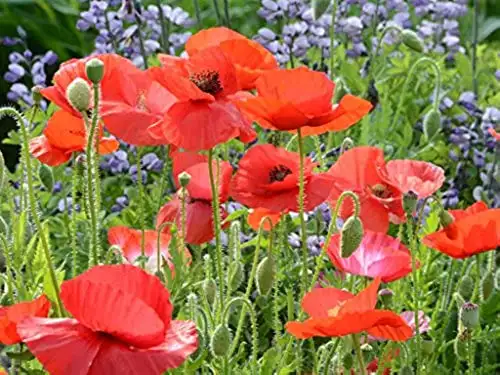 Corn poppies also referred to as Flanders poppy, Shirley poppy and field poppy is an annual plant growing up to 3 feet tall and over a foot wide with an upright habit. Its finely textured, hairy foliage is fernlike and grayish-green in color. Although the red corn poppy is the most common flower color, there are cultivars producing pink, white, violet, orange, yellow and bicolor blooms. The 3-inch flowers can be single or double. Corn poppies bloom spring through summer with spent blooms forming into round seed heads. When ripe, the seed heads turn black and split open, promoting reseeding in the garden.
Oriental Poppies
Some call oriental poppies the sexiest flower in the world and, while such judgments must yield to individual preference, it is true that their silky petals in rich, vibrant shades have an undeniable and immediate appeal. These poppies are perennials, forming a clump of hairy foliage that dies back every year after the painfully short bloom period in late spring and early summer. The plant only flowers about four weeks but the exact flowering season varies among cultivars.
Also Read: Different Types of Amaryllis Flowers
Celandine poppy or Wood poppy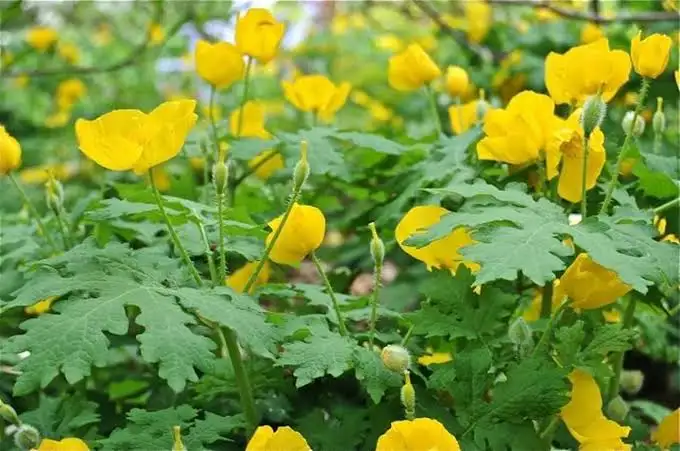 Celandine is a showy clump-forming perennial boasting charming clusters of brilliant yellow poppy-like flowers in early-mid spring. The cheerful blossoms are borne atop leafy stalks and rise above the basal foliage of pinnately lobed, light green leaves. They give way to small pods with interesting long white hairs. A great naturalizer, Celandine Poppy self-seeds readily. If left undisturbed, it will colonize large areas and cover the ground with a sea of yellow. The plant may go dormant and its foliage disappear by late summer if it is not grown in consistently moist soils or suffers water shortage. Celandine poppies are found growing in damp areas of woods in shaded or partially shaded places.
Matilija Poppy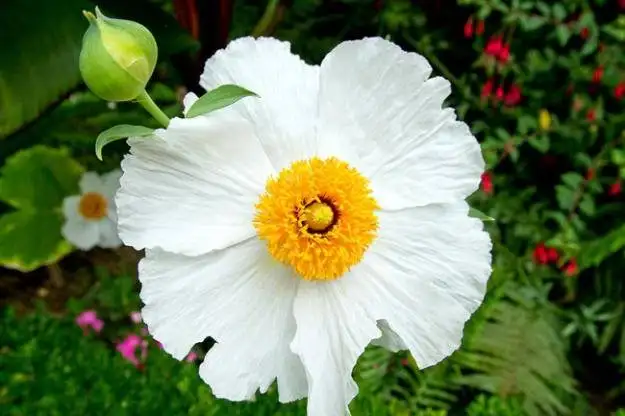 The Matilija poppy grows between six and nine feet tall. It features large white flower with six petals and a ball-shaped center of bright yellow stamens. The petals have a wrinkly, crepey, and delicate texture, but they can withstand strong winds and rain. The flower produces abundant nectar and attracts many bees in spring. It's sometimes called fried egg flower, for its uncanny resemblance to a very large fried egg. It goes dormant in winter and is a deciduous summer plant; the leaves usually start drying out and falling in early autumn. It can be grown as an annual in containers or beds in most places, but will only naturalize where it has suitable growing conditions.
California Poppy
California poppy is the state flower of California prized for their mats of fernlike foliage and brilliant red and orange blooms. There are literally dozens of developed hybrid cultivars that exhibit white, red or yellow flowers. This poppy easily establish in home gardens, along roadsides and in empty patches of land. California poppies are at their peak in the early summer. The cheerful flowers seem to spring up overnight, blanketing large areas with their bright, silky petals and blue-green, fern-like foliage. California poppies may be grown as specimen plants in the garden or broadcast in open grasslands to add vivid spring color. California poppies flourish in soils with pH levels from 5.0 to 8.5. You can harvest California poppies for cut flowers, or you can harvest them for their seeds. If you harvest their seeds before they self-sow, you can prevent them from growing in unwanted areas and instead plant them where you want them in the spring.
Oriental poppies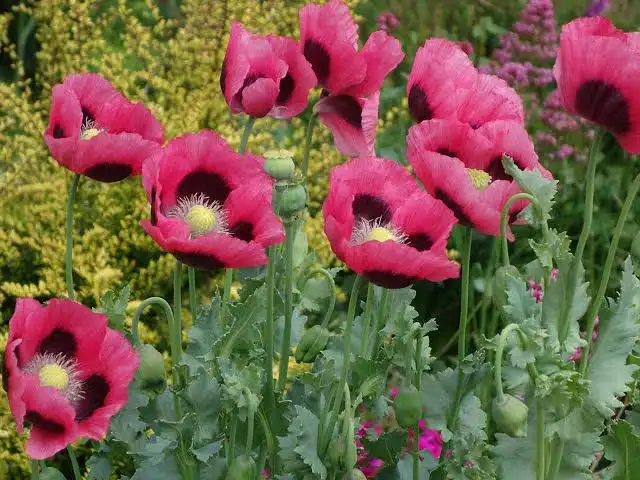 Oriental poppies produce large, colorful flowers early in the growing season that stand 2 to 4 feet tall perched on sturdy stems. The silky textured flowers can be up to 6 inches wide, making a dramatic statement when in bloom. The big, thistle-like leaves of Oriental poppy are downy, deeply-lobed, and rich green in color, offering aesthetic value in their own right. The leaves are tightly packed, and the flower stems are stiff and hairy, making Oriental poppy a good cut flower. The pods that succeed the flowers also have an ornamental quality and are dried for crafts. Plant Oriental poppies in large groups in a meadow landscape, in clumps along a border or walkway. Interplant them with plants that have interest later in the summer as they will leave an empty space in your design after they flower.
Iceland poppy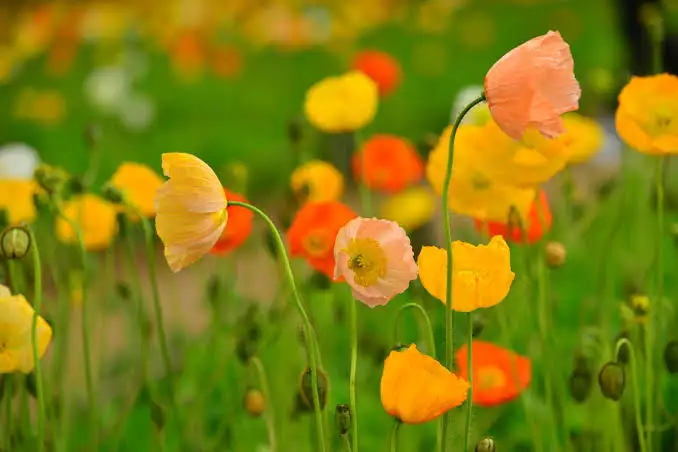 Iceland poppy produces feathery foliage and hairy or fuzzy flower stems. Their tall stems are leafless and sport brightly colored flowers, each plant with four papery thin, silky, and ruffled petals. Growing Iceland poppies in the spring bed is a great way to add delicate foliage and long-lasting flowers to the area. The flowers come out from late spring through early fall in a range of colors including cream, salmon and orange with yellow eyes. Most varieties of Icelandic poppy reach between 12″ to 16″ inches tall. It's a low-growing plant with bushy growth near the roots and flowering stems that reach about six inches.
Also Read: Various types of Marigold Flowers for your garden
Hungarian Breadseed Poppies
As its name suggests, the poppy cultivar "Hungarian Breadseed" (Papaver spp.) is, indeed, used by some bakers to create poppyseed muffins, breads and other baked goods. The poppies have blooms with a base color of light purple or white and dark markings. Blooming for weeks in summer, the ravishing blooms sit on top of sturdy stems clad with heart-shaped, silvery leaves. They are followed by decorative seed pods that can be used in dried flower arrangements, or left in the garden for the visual interest they bring. "Hungarian Breadseed" cultivar isn't the only poppy that produces edible seeds, but its large pods makes it superior for high-yield seed production. Easy to grow, deer resistant, this poppy will give a color punch to your beds and borders.
Himalayan Blue Poppy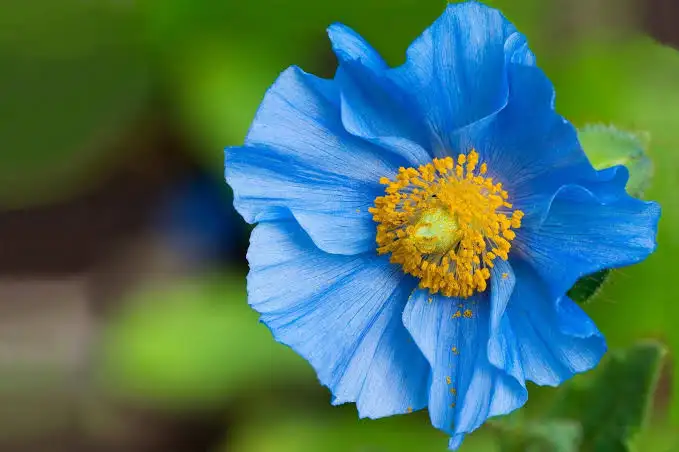 The Himalayan blue poppy (Meconopsis betonicifolia) hails from the cool, sloping woodlands of China, Bhutan and Tibet, it isn't really a poppy at all. True poppies belong to the 'Papaveraceae' family. The Himalayan blue poppy is referred to as a poppy because of its similar appearance. Cup-shaped blooms in bright sky-blue resemble the crepe-like texture of true poppies. Borne in succession on erect leafy stems, the striking blossoms rise with majesty from a basal rosette of hairy, oblong leaves and give way to narrow seed pods. Occasionally monocarpic, Blue Poppy will bloom in summer, then make seeds and die. However, this clump-forming perennial will persist and flower year after year, if given suitable conditions and care. Planted in small groups, the delicate flowers will give a color punch to your shady borders and draw the attention from late spring to early summer.
Welsh Poppy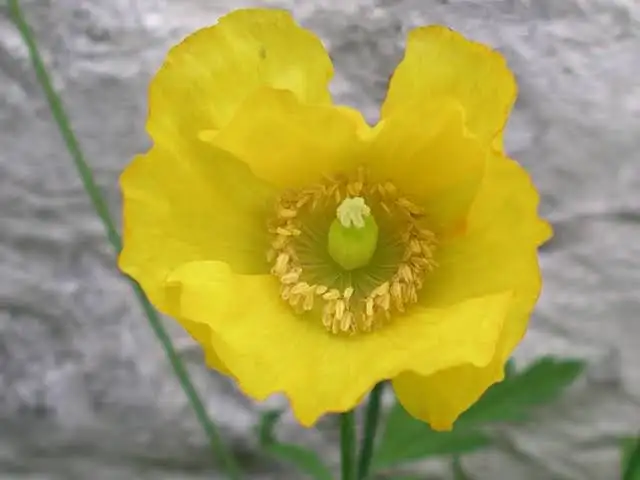 Welsh Poppy is a tap-rooted perennial boasting bowl-shaped, soft yellow to orange flowers from late spring into fall. Adding months of color, the flowers are borne on branched stems and contrast well with the foliage of bright green, pinnately lobed, hairy leaves. Resembling California or Iceland poppies, Welsh Poppy is easy to grow and undemanding. It reseeds freely in good growing conditions, springing up and shining in the garden year after year.
Spanish Poppy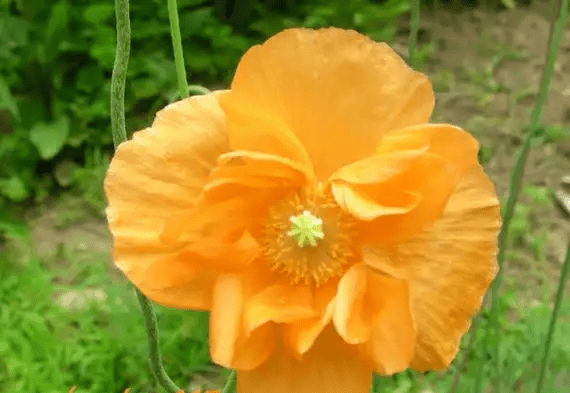 Spanish Poppy is a clump-forming perennial boasting a profusion of semi-double, soft orange flowers in summer. Adding cheerful color to the garden, the flowers are borne atop upright wiry stems and seem to float above rosettes of mid-green, lobed leaves. Tough and easy to grow, Spanish Poppy is drought tolerant and perfect to add long-lasting color to a rock garden or a dry garden.
Moroccan Poppy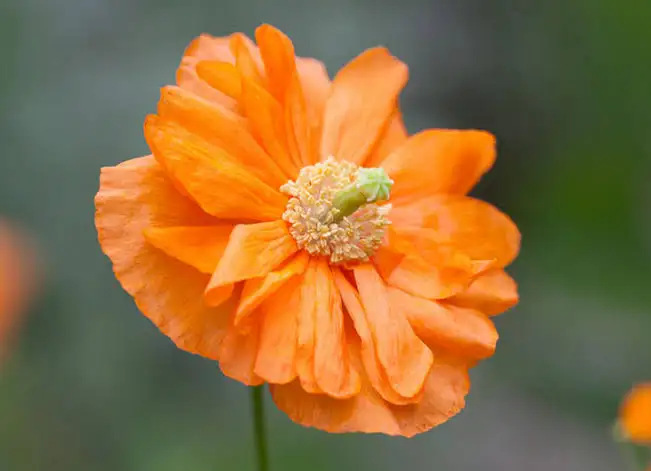 Moroccan Poppy is a clump-forming, short-lived perennial boasting saucer-shaped, soft apricot-orange flowers from late spring into fall. Adding months of color, especially when periodically deadheaded, the flowers are borne atop upright, wiry stems and seem to float above rosettes of gray-green, hairy, elliptical, toothed leaves. Incredibly tough and easy to grow, Moroccan Poppy is perfect to add long-lasting color to a rock garden or a dry garden. Its tall stems make this poppy a wonderful cut flower.
Also Read: Different Varieties of Black-eyed Susan for your garden
Red Corn Poppy/Flanders Poppy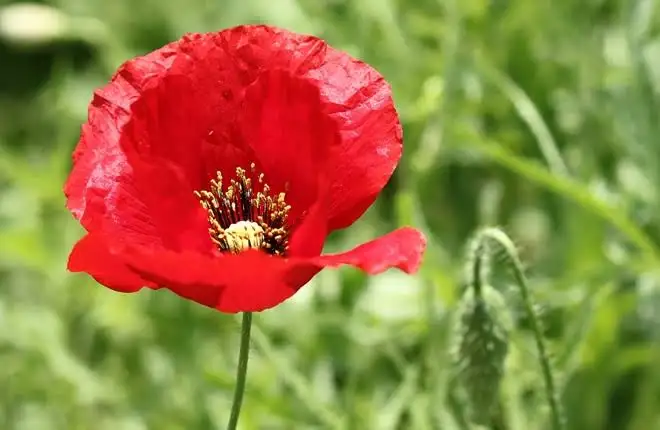 Red corn poppies, also known as Flanders poppies, are the flowers immortalized in the World War I poem "In Flanders Fields" by Canadian Lieutenant-Colonel John McCrae. Its large 2-4 inch blooms are fire engine-red vividly marked with purplish-black centers individually borne on erect hairy stems. The foliage remains inconspicuous allowing the flower to express its full beauty. Although the Flanders poppy and its cultivars are annuals, they self-seed so freely that they naturalize in a manner that makes them perform as perennials. This can be a good choice for gardeners in the South who may have trouble with the cold-loving perennial species. In warm climates, the seeds can be sown in fall or winter.
Prickly Poppy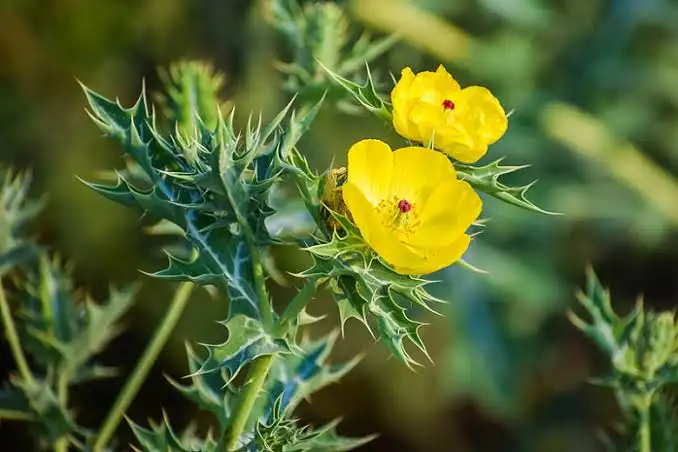 Prickly Poppy is an upright, prickly, deep-rooted, annual or biennial boasting large, poppy-like, pure white flowers with numerous yellow or reddish stamens. Blooming for weeks in mid spring to mid summer, the ravishing blooms sit atop glaucous, prickly, branched stems. Resembling thistle leaves, the bluish-green leaves are pinnately lobed or cleft. All parts of the plant release a milky latex sap when damaged. Easy to grow, deer resistant, Prickly Poppy can be used as an ornamental. Its showy flowers make it a lovely addition to a native or wildflower garden.
Mexican Tulip Poppy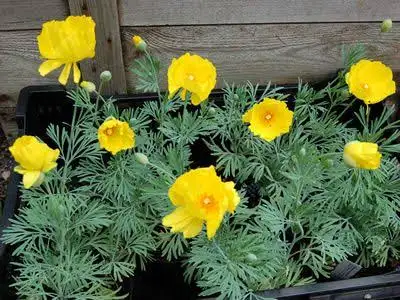 Mexican tulip Poppy grows from one to two feet tall with equal dimensions in width. Flowers are cup-shaped and three inches wide.Ths Poppy gets its name because the blooms are indeed shaped like and look like those of a tulip. However, looking into the heart of the flower, the poppy characteristics of a fringe of orange stamens surrounding a prominent rounded style bespeak its true relationship. Petals are crinkly in texture. Plants come from the highlands of Mexico and need good drainage and sun. Mexican tulip poppy tolerates drought and needs only moderate watering.
Also Read: Major Types of Celosia Flowers For Your Yard
Alpine Poppies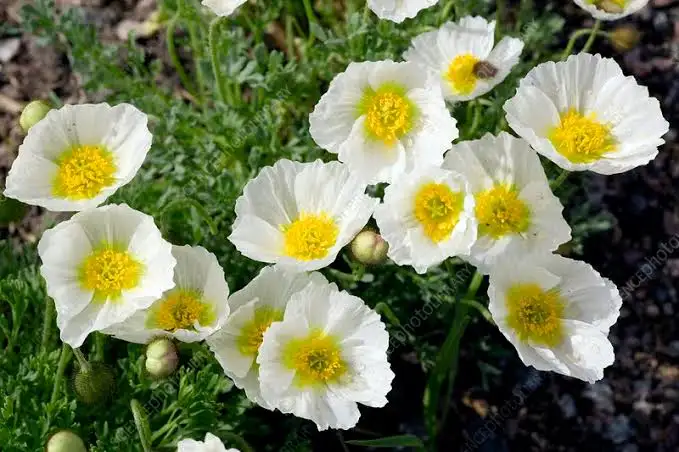 Alpine poppies are compact plants that sprout on shorter stems and thrive in high altitudes. In spring and early summer, alpine rooted poppy plants produce fern-like leaves and showy flowers with papery petals of orange, yellow, salmon red or cream with yellow eyes. However, the plants may not produce blooms the first season, as they may require one season of dormancy.Alpine poppy hybrids between 6 to 10 inches tall, are just the right choice for containers or alpine troughs. Some alpine poppy varieties grow only a few inches tall, making them ideal for rock gardens.
Purple Poppy Mallow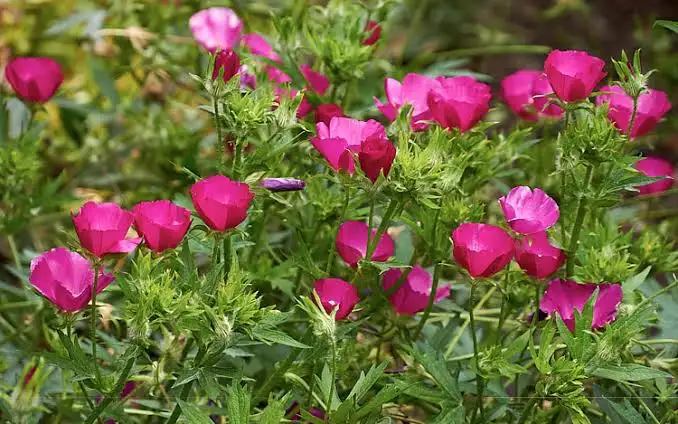 Resembling wine cups, Purple Poppy Mallow decorates cheerfully the landscape in late spring and early summer with its masses of brilliant magenta cup-shaped flowers atop ground-hugging stems. The eye-catching, upward-facing blossoms open in the morning, close in the evening and remain closed after pollination. Poppy-like, they consist of 5 petals with a white spot at their base surrounding a prominent central column of stamens. Evergreen in mild climates, it's unique and striking foliage of deeply lobed, green leaves adds some winter interest to the border. Mat-forming, this native prairie plant is an attractive, spreading, drought-tolerant perennial.
Growing Poppy Plants
Poppies, both perennial and annual, prefer sunny locations where the soil warms up quickly in the spring. Clay soil should be amended with organic material before sowing poppy seeds or planting poppy plants. Annual poppies, like the Shirley strain, are easy to grow from seed and tend to self-seed liberally. Perennial poppies, such as the oriental varieties, can be propagated from root cuttings, taken at the end of the growing season.
Most poppies do best when they are started from seed outside, as the plants generally do not transplant well. Plant seeds in the garden in the late fall or early spring in order to expose them to freezing and thawing cycles. Poppy seeds are small, so cover them lightly with fine soil and keep them moist but not soggy. Some poppies take a few weeks to germinate, so be patient when growing them from seed.
Further References