Bees are entirely dependent on flowers for food, which consists of pollen and nectar, the latter sometimes modified and stored as honey. There is no doubt that bees and the flowers that they pollinate evolved simultaneously. As bees go from flower to flower gathering pollen, a small amount is rubbed from their bodies and deposited on the flowers they visit. This loss of pollen is significant, for it often results in cross-pollination of plants. The practical value of bees as pollinators is enormously greater than the value of their honey and wax production.
A honey bee colony typically consists of three kinds of adult bees: workers, drones, and a queen. Several thousand worker bees cooperate in nest building, food collection, and brood rearing. Each member has a definite task to perform, related to its adult age. But surviving and reproducing take the combined efforts of the entire colony. Individual bees (workers, drones, and queens) cannot survive without the support of the colony. Here are some of the common types of bees.
European honey bee
Bumblebees
Carpenter Bees
Mason Bees
Leafcutter Bees
Blueberry Bees
Squash Bees
Sweat bees (Halictid bees)
Yellow jacket bees
Hairy-footed flower bee
Ashy mining bee
Tawny mining bee
Ivy bees
Yellow-faced bees
Furrow bee
Box-headed blood bee
Wool carder bees
Pantaloon bees
Characteristics or Facts About Bees
Bees have 5 eyes
Bees have been here around 30 million years
Bees can fly at a speed of 20 miles per hour
Bees are insects, so they have 6 legs
An average beehive can hold around 50,000 bees
Male bees in the hive are called drones
Female bees in the hive (except the queen) are called worker bees
Losing its stinger will cause a bee to die
Bees carry pollen on their hind legs called a pollen basket or corbicula
Foragers must collect nectar from about 2 million flowers to make 1 pound of honey.
The average forager makes about a half a teaspoon of honey in her lifetime.
Bees have 2 pairs of wings.
The main form of communication among honey bees is through chemicals called pheromones.
European honey bee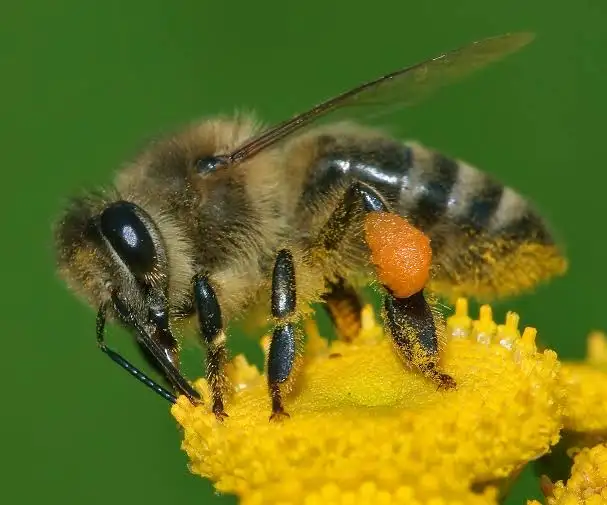 The western honey bee or European honey bee is the most common of the 7–12 species of honey bees worldwide. The western honey bee was one of the first domesticated insects, and it is the primary species maintained by beekeepers to this day for both its honey production and pollination activities. With human assistance, the western honey bee now occupies every continent except Antarctica.
Unlike most other bee species, western honey bees have perennial colonies which persist year after year. In most climates, western honey bees swarm in the spring and early summer, when there is an abundance of blooming flowers from which to collect nectar and pollen. Western honey bees are an important model organism in scientific studies, particularly in the fields of social evolution, learning, and memory; they are also used in studies of pesticide toxicity, especially via pollen, to assess non-target impacts of commercial pesticides.
Bumblebees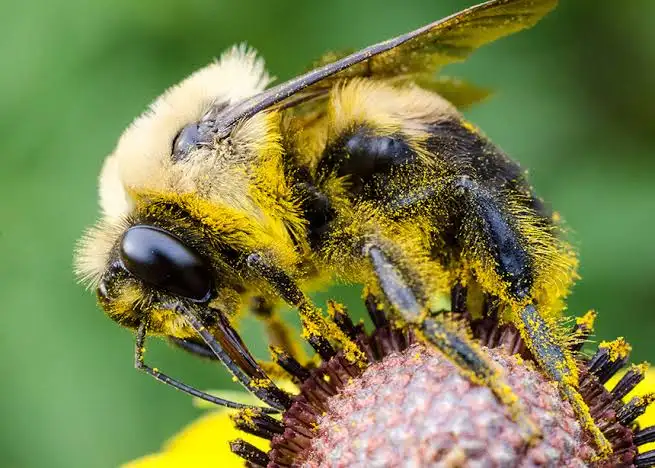 Bumblebees are robust, hairy, black-and-yellow bees with dark wings. Some species have a red color on their abdomens. Like their relatives the honeybees, bumblebees feed on nectar, using their long hairy tongues to lap up the liquid; the proboscis is folded under the head during flight. Bumblebees gather nectar to add to the stores in the nest, and pollen to feed their young. Bumblebees are typically found in temperate climates, and are often found at higher latitudes and altitudes than other bees, although a few lowland tropical species exist.
Most bumblebees are social insects that form colonies with a single queen. The colonies are smaller than those of honey bees, growing to as few as 50 individuals in a nest. The queen bumblebee overwinters in a protected area and finds a nesting site in spring, usually an old mouse nest or a burrow, and begins the nest herself. Once she has worker bees, she stays home and lays eggs. The nest increases in size and toward summer's end, new queen bees and male bees emerge and mate. The inseminated queen then overwinters to repeat the cycle. Bumblebee colonies, usually containing the impatient bumblebee (Bombus impatiens), are often used to pollinate greenhouse tomatoes, with one hive able to work about half an acre of tomatoes.
Carpenter bees
Carpenter bees are large bees that look similar and often mistaken for bumblebees. A carpenter bee has a hairless, black, shiny, metallic-looking abdomen that appears to change color in different lights. Its thorax is hairy and orange-yellow or tan, sometimes with a black spot on the back. In some species, the male may have white facial or head markings as well. Carpenter bees get their common name from their habit of boring into wood. Carpenter bees do not eat wood but cause damage to structures by drilling circular holes to create tunnels inside wood. Unlike other common bees, such as honeybees and bumble bees that live in colonies, carpenter bees are not social insects and build individual nests into trees outdoors or into the frames, eaves or sides of buildings.
Most carpenter bee activity occurs in early spring when male and female bees emerge after spending the winter in old nest tunnels. Once they have paired and mated the female bee drills into a suitable site while the male stays nearby to ward off intruders. While some people may find carpenter bees' size intimidating, the bees' mild-mannered and solitary nature makes them generally inoffensive creatures who almost never sting and do not swarm or become a dangerous nuisance. In fact, male carpenter bees, though more territorial, cannot sting at all because they have no stinger. Females have a stinger but only use it if molested. Carpenter bees are important pollinators and, especially in areas where honeybees are dying due to hive collapse, are invaluable alternates.
Mason bees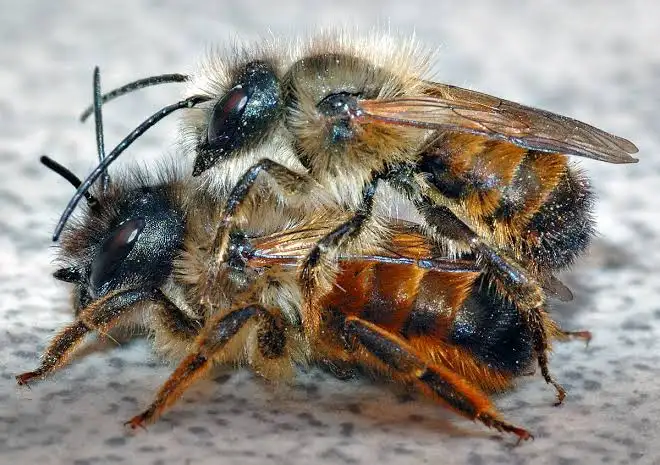 Mason bees are named for their habit of using mud or other "masonry" products in constructing their nests, which are made in naturally occurring gaps such as between cracks in stones or other small dark cavities. When available, some species preferentially use hollow stems or holes in wood made by wood-boring insects. Some mason bees look a lot like honey bees, others can easily be confused with the common house fly. In general, they are smaller than the average honeybee and grow to about 0.3 inches. They are most commonly identified by the metallic tint on their skin. Mason bees have faint lines that appear as stripes across their skin. Unlike in some other bees, these stripes are never yellow or red. They will follow the color of the bee's skin—shiny, metallic, and black, blue, or even green.
The mason bee is a solitary bee which lives in natural cavities such as woodpecker holes or hollow stems. They also seem to be just as happy in artificially-constructed nests, so long as these nests include tubes made of cardboard or paper where the female bee can lay her eggs.The bees emerge from their home in early spring when fruit trees start to bloom. The males emerge first, waiting for the females. When the females come out they quickly mate and start work on their nests for the year. They begin by finding a suitable hole and then start to gather pollen and nectar from nearby trees and plants. The mason bee gathers pollen on her underside. As she zig-zags among the blossoms she is picking up and dropping off pollen, thus pollinating the flowers as she travels.
Leafcutter Bee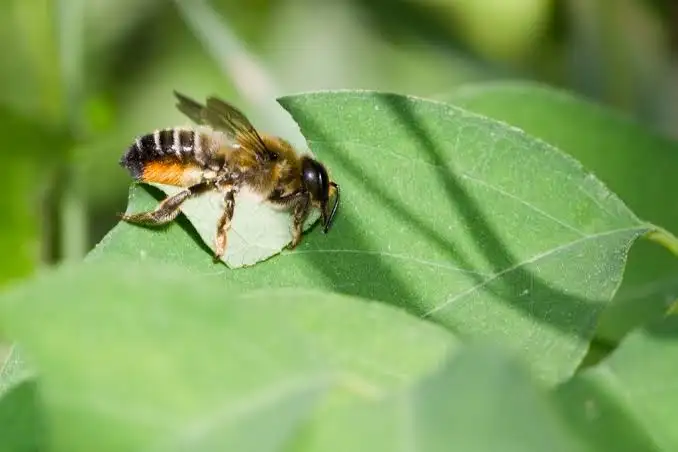 Most leafcutting bees are moderately-sized (around the size of a honey bee, ranging from 5 mm to 24 mm), stout-bodied, black bees. The females, except the parasiticCoelioxys, carry pollen on hairs on the underside of the abdomen rather than on the hind legs like other bees. When a bee is carrying pollen, the underside of the abdomen appears light yellow to deep gold in color.
The nickname, Leafcutter Bee, explains exactly what they do — they cut leaves! The female Leafcutting Bee is responsible for building a "nursery" for her little larvae. She finds a suitable space in preexisting tubular cavities (basically holes). These cavities could be in hollow stems, rotting wood, empty tunnels left by beetles, snail shells and even man made holes in buildings.
Most leafcutter bees overwinter in these nests as newly formed adults. In the following spring these adults chew their way out of the nest. Leafcutters are solitary bees and do not live in large groups or colonies like honey bees. Leafcutters do not aggressively defend nesting areas like honey or bumble bees. Their sting has been described as far less painful than that of a honey bee. Leafcutting bees will only sting if handled and therefore are not a stinging danger to people.
Blueberry bees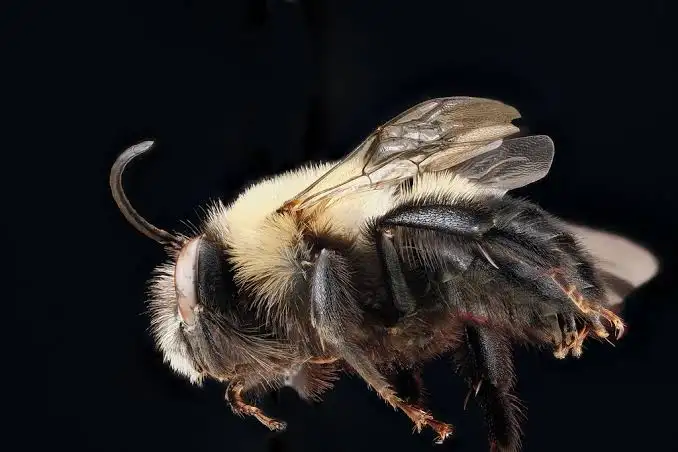 As their name suggests, southeastern blueberry bees are very common native pollinators in blueberry fields. Blueberry bees resemble a small bumble bee, are strong fliers, and do very well in cool weather. By vibrating their wing muscles, they can warm up and fly before temperatures even reach 60 degrees.
They dig their own tunnels in the ground that is a little wider than their bodies, and they may do it with the company of their own species.Usually, they choose spots where there is direct sunlight and low chances of flooding. Since they are solitary bees, the mother bee only provides food and nutrients to their own brood. Blueberry bees are only active 3-5 weeks of the year and only produce one generation of offspring per year.
Blueberry pollen is heavy, sticky and tucked safely away inside long, tubular flowers. But determined blueberry bees attach themselves to the flowers and vibrate their flight muscles to shake the stubborn pollen loose. Pollen attaches to their hairy bodies and is transferred to subsequent flowers in the bee's quest for additional nectar and pollen.
Squash bee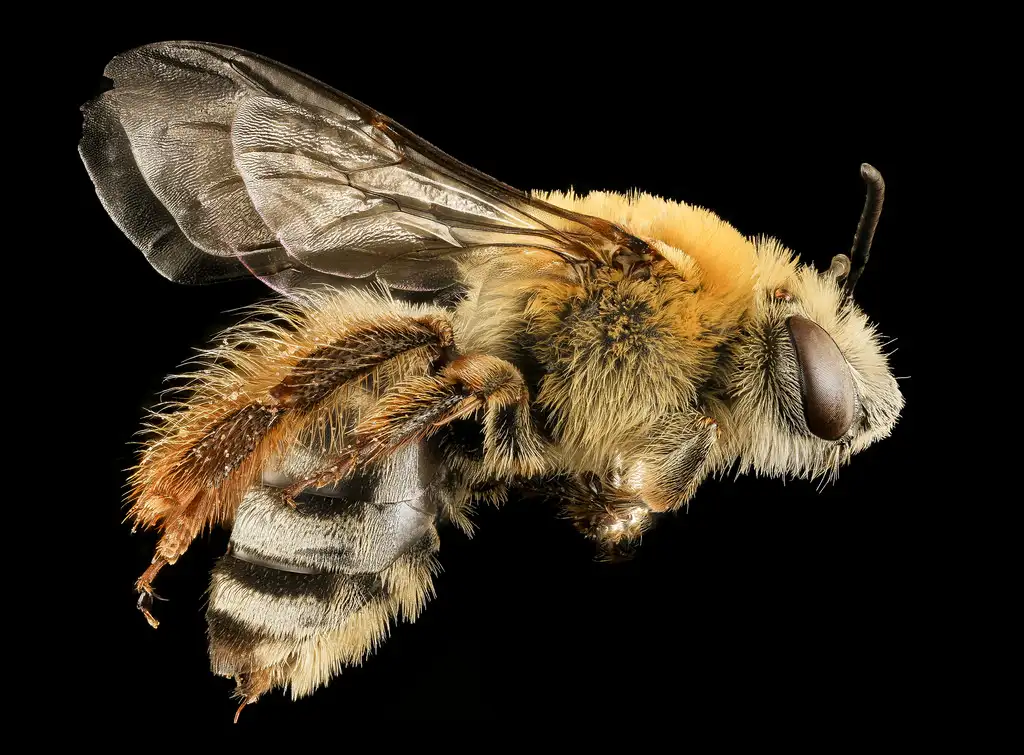 The name squash bee, also squash and gourd bee, is applied to two related genera of bees in the tribe Eucerini; Peponapis and Xenoglossa. The squash bee is a fairly common bee and an important pollinator. It is often mistaken for honeybees, but there are critical differences, including the fact that squash bees pollinate plants in the Cucurbita genus exclusively. The pollen-carrying hairs on their legs (the scopa) are unbranched or nearly so, to accommodate the exceptionally large, coarse pollen of the host plants. Males lack these hairs, as they do not carry pollen
Squash bees build ground-based nests; they are solitary and do not live in colonies, but are sometimes gregarious. Each pollen-gathering female digs her own nest, which consists of a vertical tunnel terminated by a loose grouping of individual nest cells.
Halictid bees
Halictid bees can vary greatly in appearance. While a select few are robust, most are slender bees. The majority of species are dull to metallic black, with the remaining species being metallic green, blue or purple. Female halictids carry pollen on the tibia and femur of their hind legs, except for parasitic species which do not carry pollen at all. Males usually resemble females of the same species except that they are often more slender, do not have scopa (area of long dense hairs on hind tibia used for carrying pollen) and sometimes have a yellow clypeus (sclerite below the antennae on the bee's face).
Most halictids nest in the ground, often in habitats like clay soil and river banks, though a few nest in wood. They mass-provision their young; a mass of pollen and nectar is formed inside a waterproof cell, an egg laid upon it, and the cell sealed off, so the larva is given all of its food at one time, as opposed to "progressive provisioning", where a larva is fed repeatedly as it grows, as in honey bees.
Yellow jackets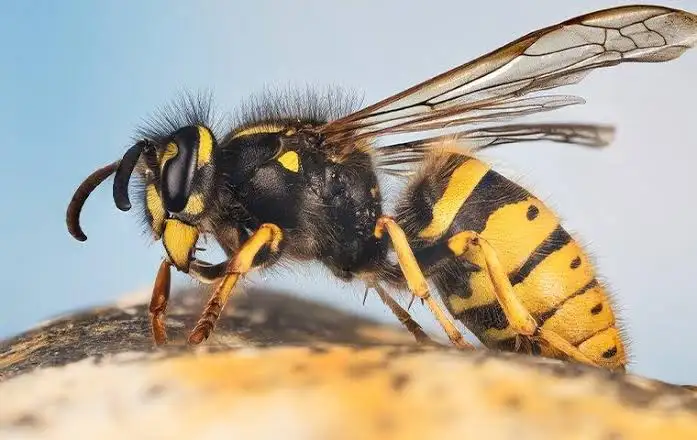 Although their yellow and black stripes are similar to those of bees, yellow jackets are not bees. Rather, yellow jackets are wasps and differ from bees in a number of ways.
The bodies of bees are fuzzier and more round in shape, while yellow jackets are smoother and thinner. Yellow jackets' bodies are narrower between the thorax and abdomen. Unlike bees, which have stingers with pronounced barbs and can sting only once before dying, yellow jackets are equipped with lance like stingers with small barbs and are capable of delivering multiple stings.
Yellow jackets also differ from bees in behavior and habits. They are predatory and will consume other insects. Yellow jackets also are scavengers of human food and can be found surrounding trash cans or picnic sites. Yellow jackets also feed on nectar, but they depend primarily upon insects, meat and fish for nourishment. Most bee species are significantly less aggressive than yellow jackets, which may sting at the slightest provocation.
Hairy-footed flower bee
The hairy-footed flower bee has a very interesting name. These bees have this name because their feet are hairy unlike any other species out there. It is believed that this trait helps them to get pollen from flowers more easily than other bee species that have smooth feet.
Males are pale gingery brown in colour with distinctive cream coloured hair on their faces. They also have distinctive feathery hairs on their legs/feet which is where this species gets its name from. These bees can often be seen patrolling areas of flowers in the hopes of finding a mate and chasing other insects off their territory.
Females are very different to males, they are black all over, except for orange/red hairs on their hind legs. Once they have successfully mated, they can be seen collecting pollen which they gather on their hind legs and transport back to their nest cells. They lay an egg in each cell, provision it with enough pollen to feed the larvae and then seal it up to allow their young to develop until next spring when the cycle starts again.
Ashy mining bee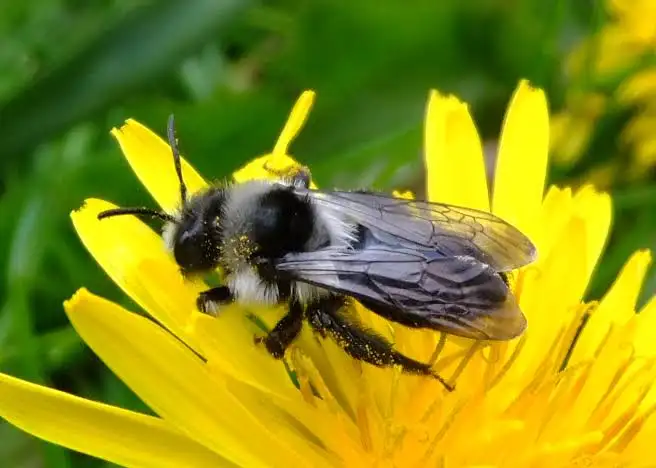 The ashy mining bee, also known as the Danubian miner or grey mining bee. Its distinctive colouring makes it one of the most easily recognised of the genus.The females are black, with two broad grey hair bands across the thorax. The male is also black although the thorax is entirely covered with grey hairs. The male has a tuft of white hairs on the lower face and white hairs on all femora while the female has white hairs only on the front femora. The female has twelve segments to their antennae and the male has thirteen.
Following mating, the male dies and the female starts to build a nest. Each female has her own nest and the ashy mining bee is therefore classified amongst solitary bees. They prefer to nest in tended lawns, flowerbeds, parkland, calcareous grassland, orchards and on the borders of agricultural land.
The nest is a simple burrow with several brood cells branching off it. The entrances to the burrows are identifiable by the conical mounds of excavated spoil on the surface. The female fills the brood cells with a mixture of nectar and pollen, and lays one egg in each cell.
Tawny mining bee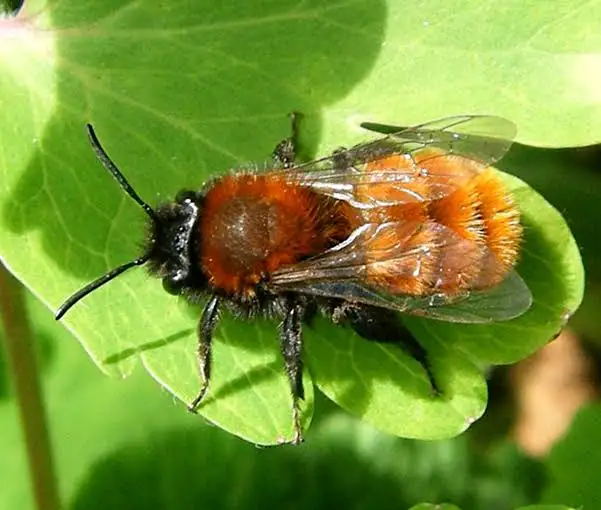 Tawny mining bees are one of our most recognisable spring-flying solitary bees with dense orange/red hair. The female is covered with fox-red hair on the dorsal surface of its thorax and abdomen and black hair on its head and ventral surface. The male is less distinctive, being clad in golden-brown or reddish-brown hairs, with some long white hairs on the face, and a tooth on each of the mandibles. Tawny mining bee lives among short vegetation in light woodlands and dry grasslands, and also in parks and gardens. It is widely distributed but has a low population density.
It mates in spring, after which the male dies and the female starts to build a nest. Sometimes more than a hundred females build nests in a few square metres but the tawny mining bee does not create a colony, each female having her own nest. The tawny mining bee is therefore classified amongst solitary and communal bees.
Ivy bees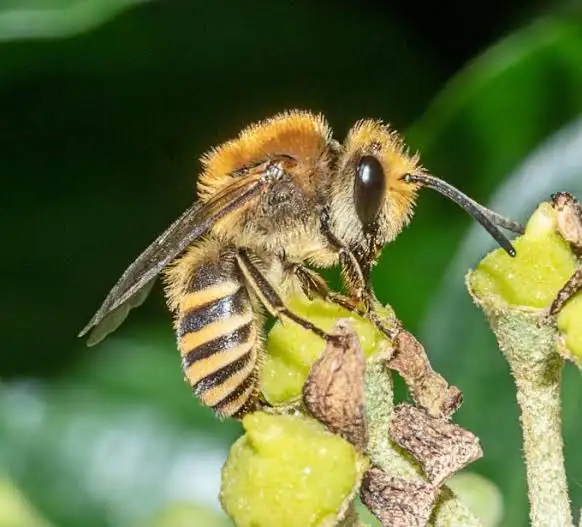 Ivy bees are a similar shape to honeybees, although their black and yellow stripes are much more defined and seem much brighter. Female ivy bees are slightly larger than males, normally around 13mm long, (males are around 10mm long). Males have notably longer antennae in comparison than females. This species has a dense covering of orange hairs on the front half of its body (thorax and head), with distinct black and yellow stripes on the lower half (the abdomen).
Common in urban and farmland settings, as well as coastal and heathlands. This species is known to nest in exceptionally large and densely packed groups. These mainly occur on south-facing slopes of sparsely vegetated and bare earth/cliff faces, although are also known to occur in garden lawns and allotments. As the name suggests, this species predominantly feeds on Ivy flowers, but they will also visit a variety of late blooming flowers.
Yellow-faced bees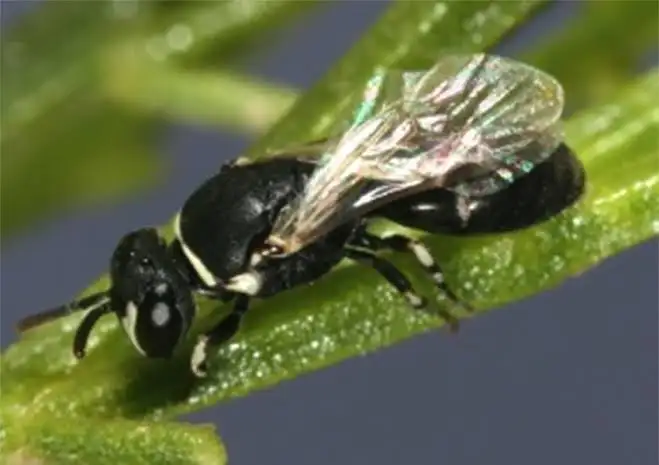 Yellow-faced bees are very slender and can easily squeeze deep into flowers to collect pollen and nectar. The most unique feature of yellow-faced bees is that, unlike most other bees, they do not possess scopa. Scopa are external appendages used to carry pollen, such as dense masses of setae, or hair, on the hind legs. Instead, yellow-faced bees carry pollen in a special compartment of their stomach, known as the crop. They transport the pollen in the crop, sometimes referred to as the honey stomach, and then regurgitate it at the nest.
Yellow-faced bees are solitary bees, typically nesting in existing tunnels or holes in wood or stems. They create brood cells with a cellophane-like material, which they also use to line their nest with. Upon returning to the nest after foraging, the female regurgitates the contents of her crop into individual brood cells. An egg is laid in each cell, and the larvae can then eat the liquid mixture of pollen and nectar when they hatch.
Box-headed blood bees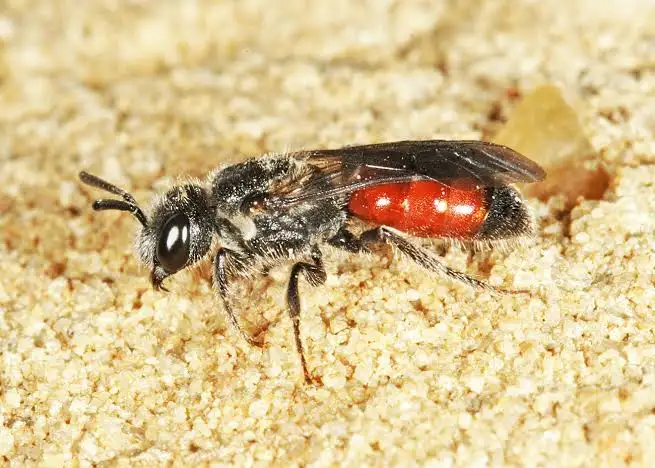 Box-headed blood bees are medium to large sized black bees with blood-red abdomens. They are cleptoparasites of several Furrow bee species and females forcibly invade pre-stocked nest cells, destroy the resident egg or grub, and replace it with their own before resealing the cell.
Males are smaller than females, with slightly less red at the top of the abdomen. Without close inspection under a microscope, they can be difficult to distinguish from other male Blood bees, although they belong to a group which have flattened antennal segments.
Females are medium-sized black bees with blood-red abdomens. They can be distinguished from other similar Blood bees by their box-shaped heads, thinner bodies and the pale hairs on their hind legs. Their heads have distinctive punctures across the top behind the three ocelli (primitive eyes on top of a bee's head in between the two main eyes).
European wool carder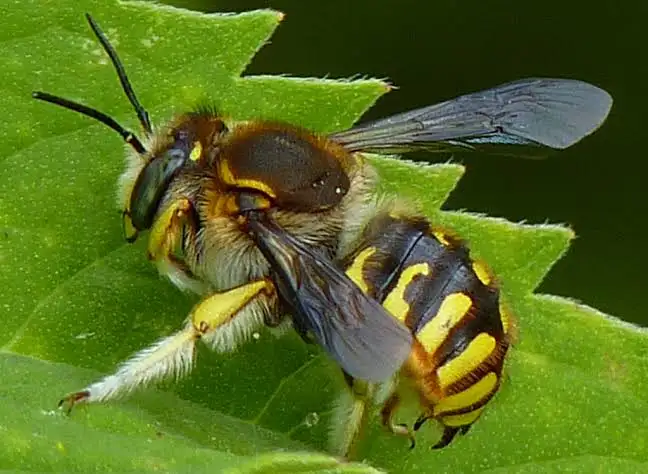 The European wool carder bee is black with yellow spots and is covered with yellow-grey hairs. Its face and abdomen are covered in yellow spots and it has striking yellow markings on its back. Males are large, with a series of yellow spots down the sides of the abdomen, making them very distinctive. They also have visible spikes at the end of their abdomen. They have pale hair around the sides of the thorax and abdomen, and on the head. They are known for their territorial behaviour and will fiercely battle any other insect that invades their patch of flowers, which they are keeping for potential mates.
Females have similar markings to males, but are smaller and less hairy, and lack the abdominal spikes. They collect wool fibres from various plants and can be seen transporting silvery clumps of these fibres to their nesting cavities.Commonly found in lots of different habitats, especially gardens containing their favoured plants, also present in heathland, woodland rides and clearings, wetlands and river banks, soft cliff areas, chalk downland and brownfield sites.
Pantaloon bees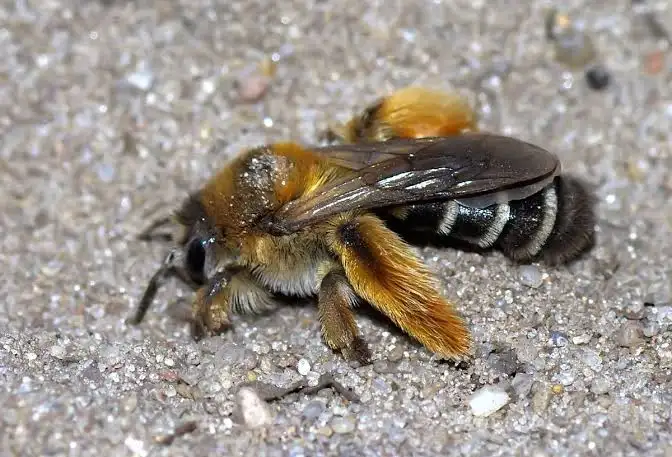 Pantaloon bees get their name from the females' oversized orange pollen brushes on their hind legs, which give the impression of a bee wearing pantaloons. These bees are striking and easy to recognise, although the males are not as obvious.
Males are have long golden brown hair on their bodies with similar banding on the abdomen to females. They also have longer than average hair on their legs but lack the distinctive pantaloons. They can fade to a silvery-white later in the season as they become bleached by the sun.
Females are unmistakable with large orange pollen brushes on their hind legs giving the impression of them wearing pantaloons. They are a medium/large sized bee with golden brown colouring on the thorax and alternating golden brown and black bands on the abdomen.