Overview
Decorative perennial grasses, commonly referred to as ornamental grasses, are prized in the home landscape because they are a low-maintenance plant option that adds color and texture to borders, gardens and screens. They also attract beneficial insects and birds. Unlike turf grass, ornamental grasses grow in clumps or bunches, and do not usually creep outward by stolon or rhizome. There are several varieties of perennial decorative grasses that thrive in different areas depending on soil type and composition. Most ornamental grasses grow in clumps and tend to be invasive, spreading abroad and flourishing as they displaced valuable local natives.
Tall, Short And Medium Ornamental Grasses
1. Blue Fescue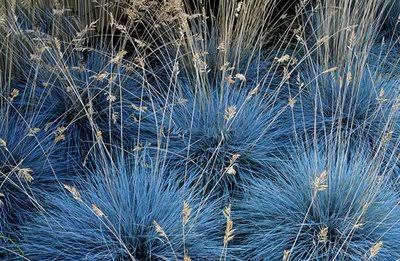 Blue fescue grasses are a highly popular choice in both residential gardens and commercial landscapes around the world. These are small clumping perennial grasses with blue-green foliage that grow in a spherical shape from 12-15 inches high. It is well adapted to sunny exposures and many types of soil, requires little care and performs best with moderate amounts of moisture throughout the summer. Its soft texture and mounding shape makes it highly attractive around pools, in rock gardens and along borders.
2. Mexican Feather Grass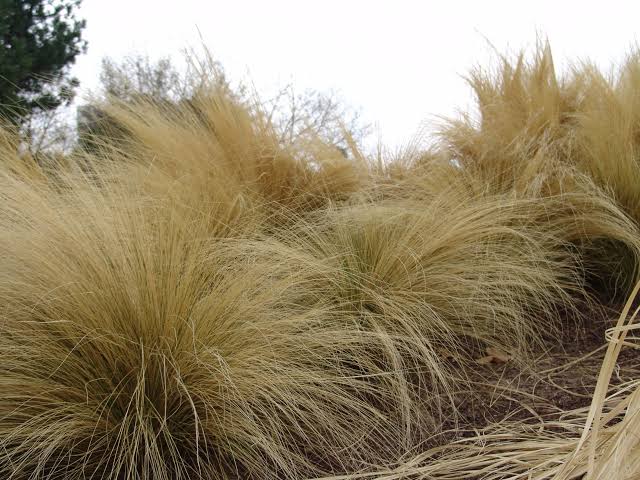 Mexican Feather Grass is a wildly popular ornamental grass used by home gardeners and landscape design professionals. Mexican Feather Grass is loved for its graceful, delicate and fine texture – it grows out in a cascade like a beautiful fountain.
Mexican feather grass is even grown on green roofs. The seeds are at the very tips of the featherlike "blades," which wave in the gentlest of winds. Mexican feather grass also spreads. It can show up all over the yard, in sidewalk cracks, and down the street in neighbors' yards.
Its light color (the leaves are a silvery green to lime-green) makes it a good foil for darker plants, for which the plant can be used as a backdrop. It is also a good plant to use in borders for cottage gardens.
3. Japanese Forest Grass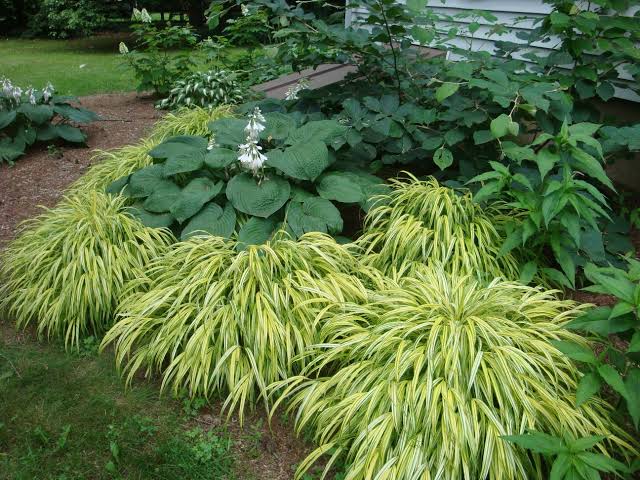 Japanese forest grass is a graceful, slow-growing ornamental grass that thrives in full or partial shade. Gardeners value the plant for its narrow, arching blades that billow in the slightest breeze. It is a relatively small grass with a height of no more than 2 feet at maturity; it also pairs beautifully with ferns or hostas in a shady garden.
Also Read: Tree With Pink Flowers
4. Zebra Grass
Also known as Japanese silver grass or Eulalia lends the landscape creamy yellow and green zebra-striped foliage and coppery pink plumes that rise above the plant in late summer and autumn make it one of the most sought-after ornamental grasses for flower beds. The feathery plumes are often cut for use in fresh or dried floral arrangements. Zebra grass has a tendency to flop over as it matures, and it should be pruned annually to improve its looks.
5. Purple Fountain Grass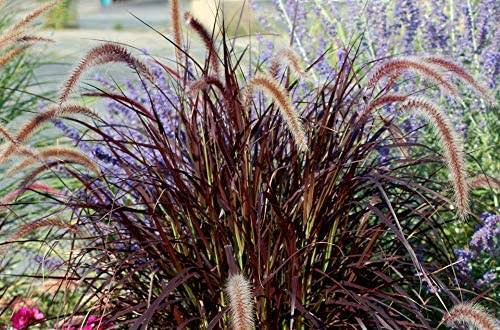 Purple fountain grass gets its name due to the arcing spikes of purplish flowers that gracefully spray out of its mass of long, slender, burgundy-colored leaves. It has a fast growth rate and is best planted in spring. The beauty of purple fountain grass makes it popular as a focal point in a mixed planting, and it is often used in container gardens. You can also mass several of the plants together to create a visually beautiful border or privacy screen.
6. New Zealand Flax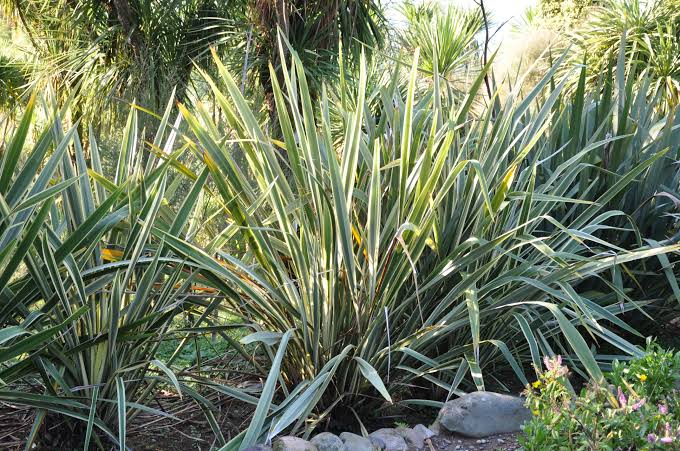 The New Zealand flax is a highly common large and often colorful, spiky plant that makes an arresting focal point in the garden or in containers. It has sword-like leaves that shoot up from the base of the plant. It is a strap-leaf perennial that is available in many sizes and foliage colors and is often planted for contrast and accent character in parkways, mixed tree and shrub plantings, in containers and along walkways and borders. New cultivars and hybrids are now available with leaves in bright shades of yellow, pink, red and bronze.
7. Japanese Blood Grass
Japanese bloodgrass grows in clumps about 1 to 1 1/2 feet tall with a similar spread. The glass blades are thing, or no more than about 1/4 inch wide, and erect. They are green when they first grow, then the upper half of each leaf turns red beginning in summer, eventually deepening to burgundy. This ornamental grass rarely blooms but when it does, the inflorescence is grayish white and appears in late summer. Japanese bloodgrass remains an attractive dark red until it goes dormant at the end of the growing season.
Japanese blood grass is an easy-to-grow ornamental grass; it provides reliable color as the season progresses. The serrated foliage is unattractive to deer and rabbits, and the rapid growth habit fills in hillsides quickly to help with erosion control.
8. Blue Oat Grass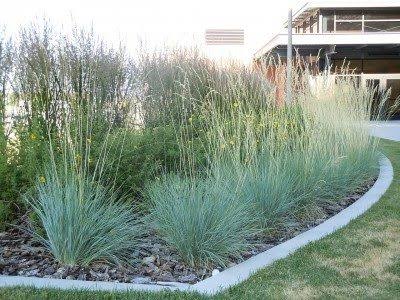 Blue oat grass is a slow-growing, clumping grass that grows to be about 2 feet tall with a spread of about 3 feet. The perennial grass is notable for its pale blue clusters of flowers, brown seed pods and narrow, arching leaves, which are a distinct shade of silvery blue. This perennial grass plant is evergreen or semi-evergreen in regions with mild to moderate winter seasons, providing visual interest even after the growing season has ended.
In summer, spikelets of tiny blue-green flowers bearing seeds appear at the top of the tall grass stalks in groups called panicles. These gradually turn to wispy brown plumage as fall approaches—imitating the appearance of oats.
Also Read: Fast Growing Evergreen Shrubs
9. Pink Muhly Grass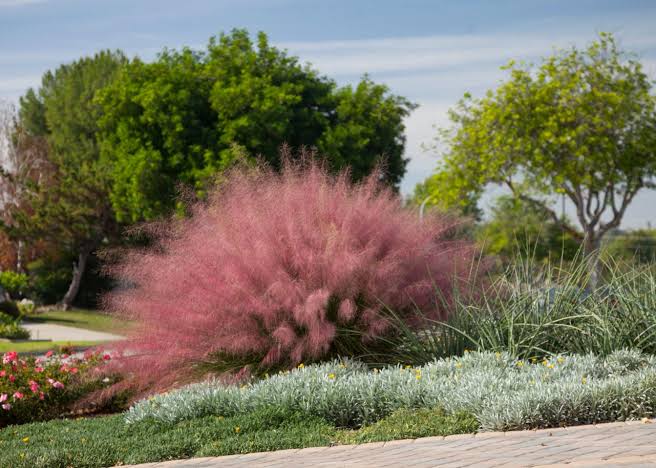 Muhly grass is an upright, fine-textured ornamental grass that reaches heights of 3 to 5 feet at maturity. The feathery pink or purple inflorescence, which appears in late summer and last well into autumn, rises above the foliage to reach heights of up to 5 feet.
Sometimes also referred to as hairawn muhly, this perennial species of grass is native to the eastern United States, stretching from Massachusetts to Florida and as far as west as Texas and Kansas. Muhly grass is appropriate for mass plantings, borders, accents, or as a stabilizer on difficult slopes.
Preferring warm, dry climates, this blooming grass is popular for landscaping residential areas, highway medians, and parks. In the spring and summer, the slender, long shoots of grass are green in color. As the fall approaches, the plant produces soft, fuzzy flowers in pink or pinkish-red hues which are often compared to the appearance of cotton candy.
10. Egyptian Papyrus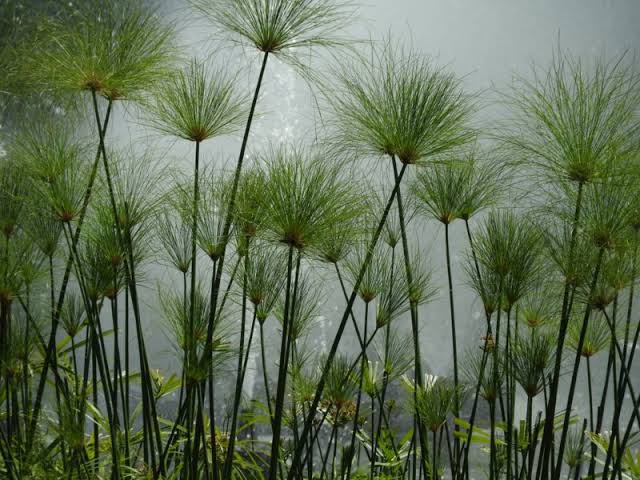 Egyptian papyrus is a large wetland plant famous for its use in making paperlike papyrus during biblical times. Today, the grass plant is very useful as a dramatic landscape accent in locations that are consistently wet. It forms tall clumps of triangular green stems originating from underground woody rhizomes. Each stem is topped by an umbrella-shaped arrangement of many thin, grassy rays that constitute the plant's inflorescence. Small clusters of green to brown flowers appear at the ends of these rays when the plant blooms. Egyptian papyrus is best suited for areas that receive partial shade, although it will tolerate full sun for part of the day.
11. California Fescue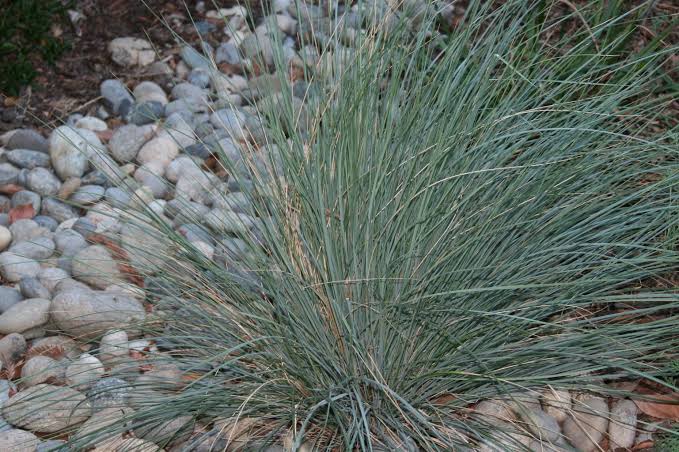 California fescue is a grass that is native to California. Its cascading growth habit makes it ideal for slopes or as an accent to rock gardens. The blue-green blades grow to 1 1/2 feet tall, with flower stalks rising 2 feet above the foliage. Once established California fescue is drought tolerant and can grow in full sun or partial shade, making it a good companion for ornamental trees. This perennial ornamental grass is also deer resistant and requires limited maintenance.
12. Black Mondo Grass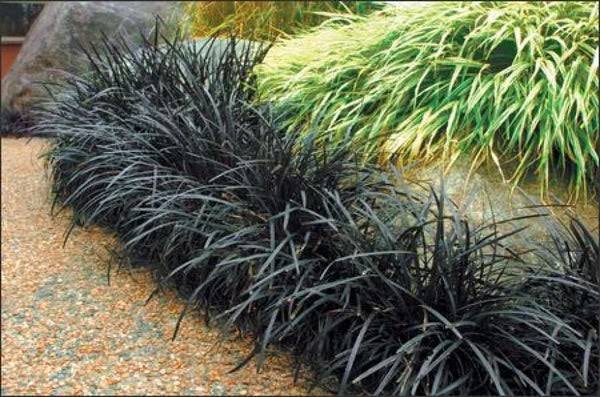 Mondo Grass is an ornamental grass in the asparagus family. It is an evergreen groundcover that grows up to 8-12 inches tall and is tufted. It has very slowly, yielding needle-like leaves that are 6 to 10 inches long. It is a favorite for borders and areas that require little maintenance, yielding 1/2-inch-wide white flowers with a pink flush in the late summer to early fall.
This plant blooms in the summer and has large racemes that are crowded with showy flowers held well above the foliage, which contrasts well with nearly black leaves. This evergreen groundcover spreads slowly and has some daughter plants that revert to green. Black mondo grows Black mondo grass provides a striking contrast to other cultivars of mondo grass, such as white, light green and variegated.
13. Feather Reed Grass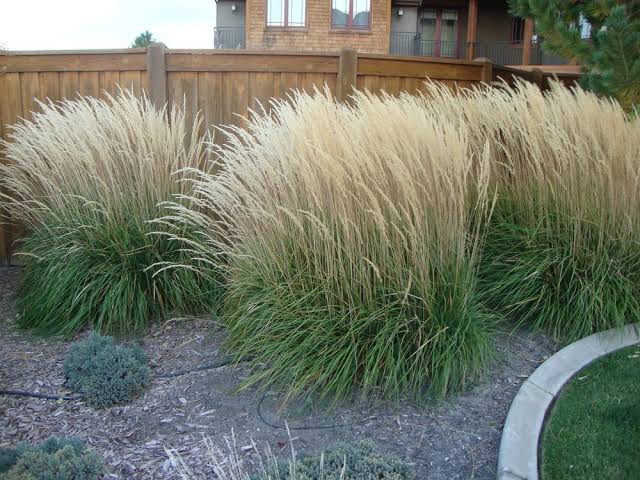 Feather reed grass is a popular perennial ornamental grass that grows in dense clumps of erect, narrow, green leaves that can reach around 3 feet long. Pinkish-purple, feathery flower spikes rise a couple feet above the leaves in the summertime and gradually turn to golden seeds, which can persist into winter.
Because the plant is a hybrid, the seeds are sterile, so you won't have problems with your feather reed grass spreading invasively. The ornamental grass has a moderate growth rate and can be planted in the spring or fall.
14. Purple Needle Grass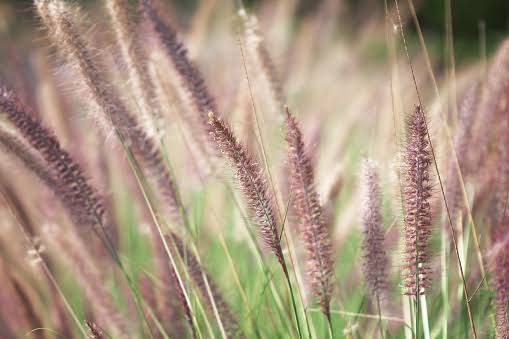 Purple needle grass is the state grass of California. It is a distinctive clumping grass with fine textured foliage growing 18-24 inches tall with upright inflorescences growing to 3 ft. tall. Nodding seed awns move gracefully in the wind and have a distinctive purple color in early spring before fading to a light wheat color.
Also Read: Major Evergreen Trees For Landscaping
15. Switch grass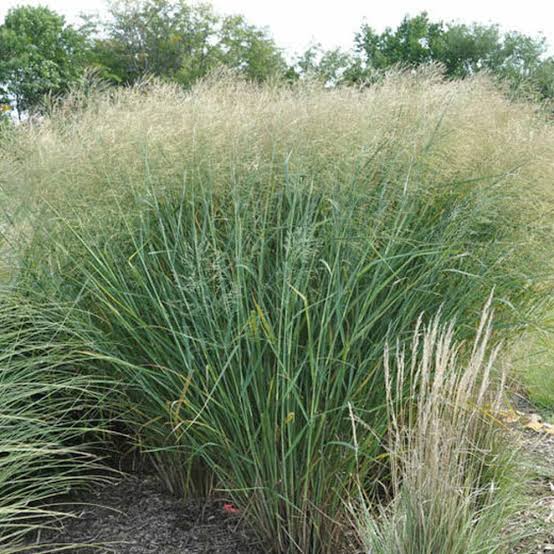 Switchgrass is a perennial, warm-season ornamental grass that is native to North Carolina. This plant is one of the more dominant species of the tallgrass prairie, but it is found all over North America growing along moist roadsides, streambanks, and woodlands. It reaches 3-4 feet and with its flower plumes it can measure up to 7 feet tall. It forms a dense columnar foliage clump that can spread slowly through creeping rhizomes and remains attractive year-round.
16. Purple millet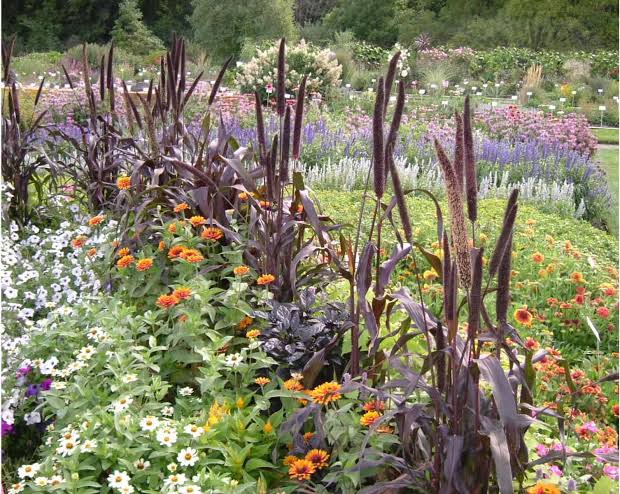 'Purple Baron', better known as ornamental millet, is an ornamental grass that at full maturity develops a deep purple color. It bares 8 to 12 inch (20-31 cm.) cattail-like flower plumes that change from gold to purple as they mature. This stunning purple is echoed in the burgundy red to amber/purple corn-like foliage of the grass. Ornamental millet plants grow 3 to 5 feet (1-1.5 m.) in height.
The purple foliage of ornamental millet plants adds a lovely counterpoint to a garden either in mass plantings or in combination with other plant specimens and even in container gardening when a tall focal point is required.
17. Cord grass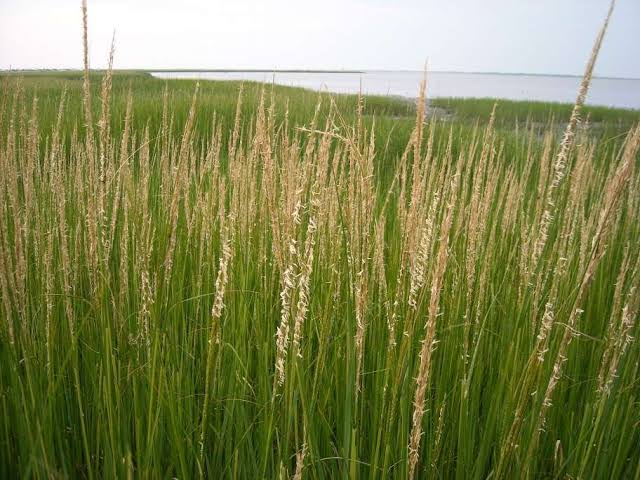 Cord grass also called marsh grass, or salt grass is a species of perennial grasses commonly found in marshes and tidal mud flats of North America, Europe, and Africa and often forms dense colonies. Cord grasses are erect, tough, long-leaved plants that range from 0.3 to 3 metres (1 to 10 feet) in height. Most species grow in clumps, with short flower spikes alternating along and often adherent to the upper portion of the stems. Many spread vegetatively with rhizomes (underground stems) that send up new plants.
18. Fibre optic grass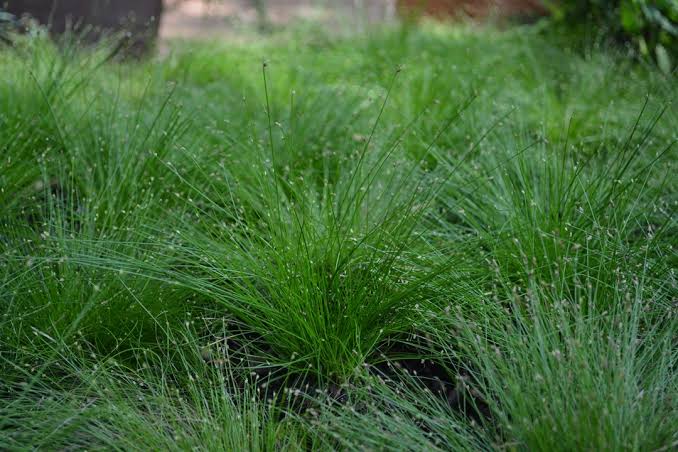 Fiber Optic Grass is a fountain-like ornamental grass-like sedge with small, silvery white flowers at the tips. It gets its name from its resemblance to a fiber optic lamp. This easy-to-grow plant grows upright when it is young, and then spills gracefully over the edges of containers or garden walls as it matures. When temperatures drop, the foliage may change from the bright green to yellow or brown.
Also Read: DifferentTypes of Sunflower Varieties
19. Ravenna Grass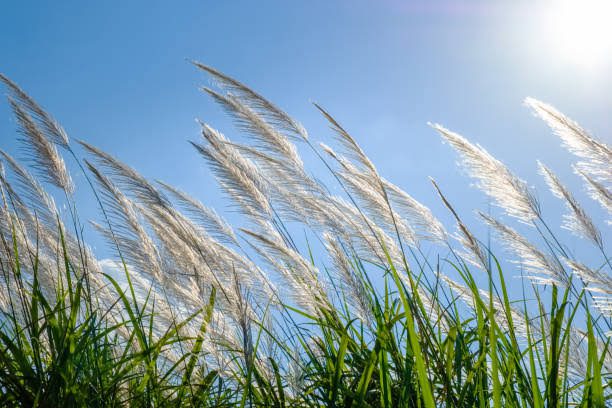 Big and bold ravenna grass, also known as elephant grass or plume grass is an ornamental warm-season grass. One of the most outstanding characteristics is its leaf blades. These are 3 to 4 feet long (1 m.) and are blue-green with hairy bases, bearing a distinctive white mid-vein.
Ravenna grass in landscapes forms a dense clump with stems that are slightly weaker than traditional pampas grass. The plant produces tall, silver-white, feathery plumes in late summer which are long-lasting and attractive in floral arrangements. Ravenna grass can be employed throughout the landscape as a living screen or focal point.
20. Northern Sea Oats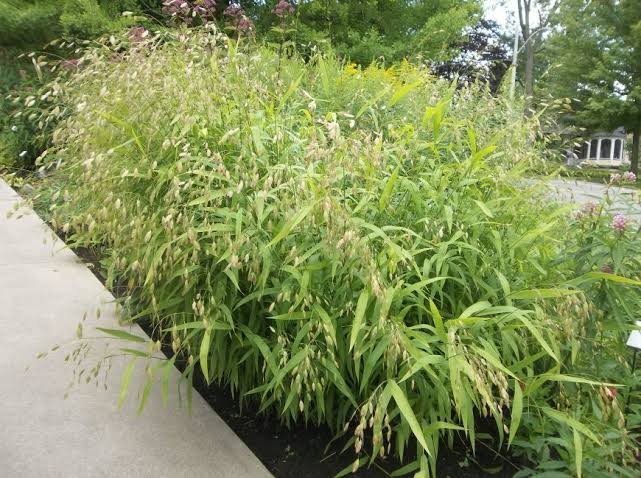 Northern sea oats is an ornamental grass with an upright growth habit and narrow, arching leaves thrives in shade. The plant is distinguished by large seed heads that emerge bright green in spring, turning coppery in autumn and well into the winter months. The plant reaches heights of between 3 to 5 feet with Silvery-gray oat-like flowers appearing in summer.
21. Purple Moor Grass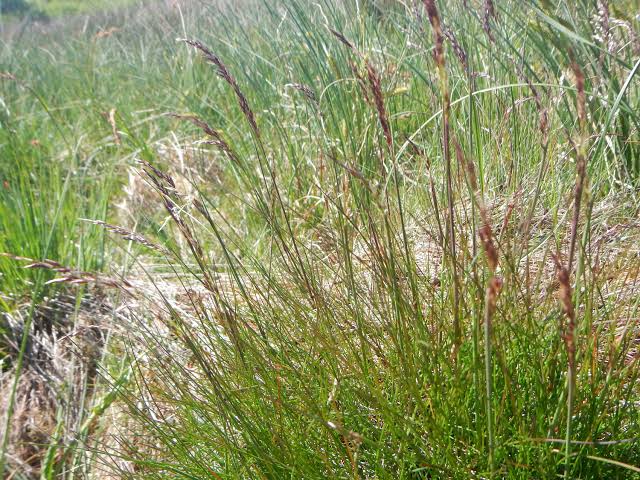 Molinia caerulea, known by the common name purple moor-grass is a herbaceous perennial bunchgrass (tussock-forming), growing up to 90 cm (35 inches) tall (taller when sheltered by gorse and heather), with many closely packed stems. The leaves are coarse, green, taper to a point, long, flat and sometimes slightly hairy on top. Molinia caeruleais cultivated for its panicles of purple spikelets that appear on yellow stems.
22. Pampas Grass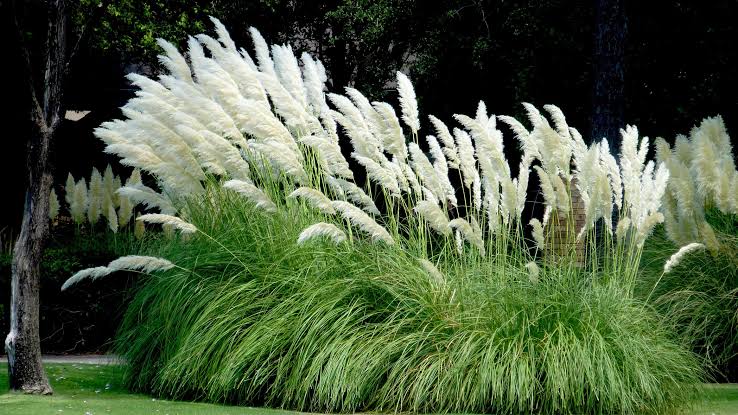 The most eye-catching feature of pampas grass also referred to as Cortaderia selloana, is its fabulous silver-white plumes. The plant flowers in September, but in reasonable weather conditions, the plumes will remain beautiful for months.
The green and sometimes variegated leaves also make this tall grass species a real beauty. Long, narrow and elegant, they sway in the slightest breeze, bringing natural movement to your garden and patio. Because the plant grows tall, it provides plenty of greenery and display at a height where not many other plants flower. The plant will remain smaller in a pot than in the ground.
23. Monkey Grass
Monkey grass also referred to as lilyturf and blue lily turf or Mondo grass, is an evergreen perennial producing grass-like clumps of foliage. The arching green and glossy leaves are about 1 inch wide, with the thick clumps slowly enlarging by non-aggressive, underground stolons. Clumps grow 1 1/2 feet tall and a foot wide. During summer, tall flower spikes filled with whorls of bluish-purple flowers bloom, followed by black berries.
Monkey grass makes an excellent ground cover for shady areas, as these plants grow well in areas where other types of sun-loving grasses will not grow, such as under trees. It fills in slopes and its dense roots that spread underground grow in clumps that help prevent run off. This grass also never needs mowing so it is ideal for areas where growing turf grass is not possible. It is a decorative, low maintenance grass.
24. Toffee Twist Sedge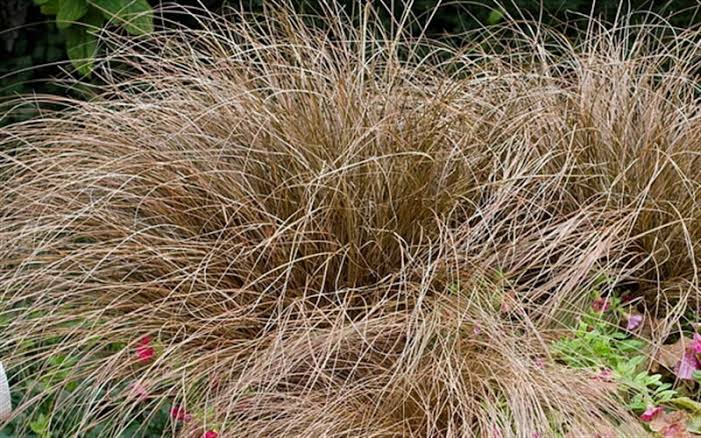 Toffee Twist Sedge is an herbaceous evergreen perennial grass with a shapely form and gracefully arching stems. Toffee Twist Sedge's attractive grassy leaves are coppery-bronze in color. The foliage often turns tan in fall. It brings an extremely fine and delicate texture to the garden composition. Neither the flowers nor the fruit are ornamentally significant.
25. Prairie Dropseed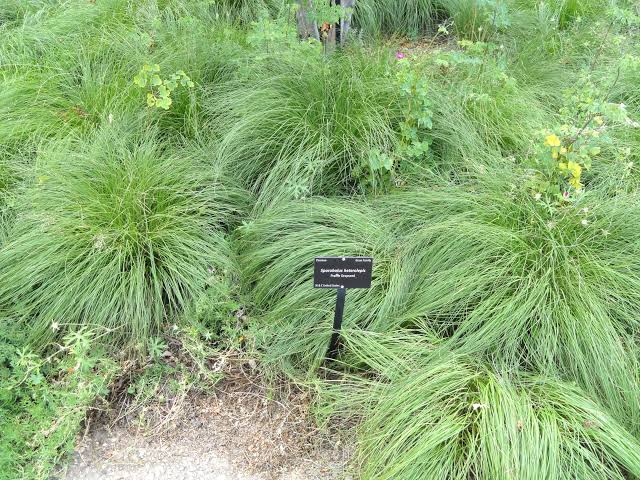 Prairie dropseed is an attractive yet tough and long-lived ornamental grass.It grows in dense tufts that arch towards the ground. The foliage is glossy green in the summer and turns into a deep orange in the fall. During the winter, the leaves fade to a light bronze color. This grass remains upright in snow, adding winter interest to your yard.
26. Atlas Fescue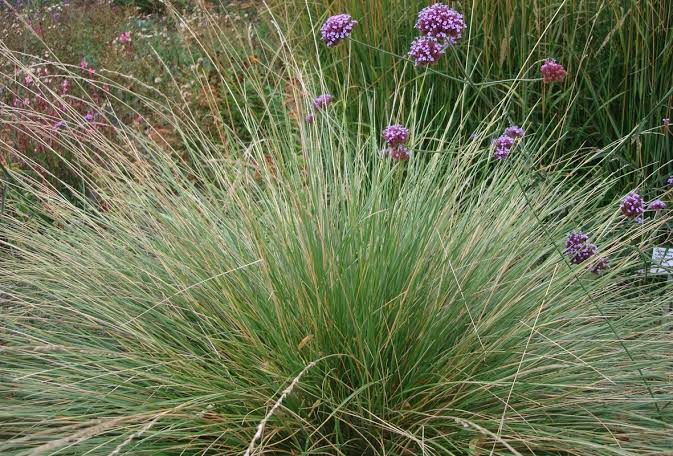 The Atlas fescue is a robust clumping species with bright green foliage that grows into 24-30 inches. Inflorescences develop in late spring and persist into fall, and provide pleasing visual character when moving in the wind or backlit by the sun. Long and flexible leaf blades are flat, gradually taper to a soft point and turn wheat colored in late fall.
Also Read: Different Types of Bamboo Varieties
27. Deer Grass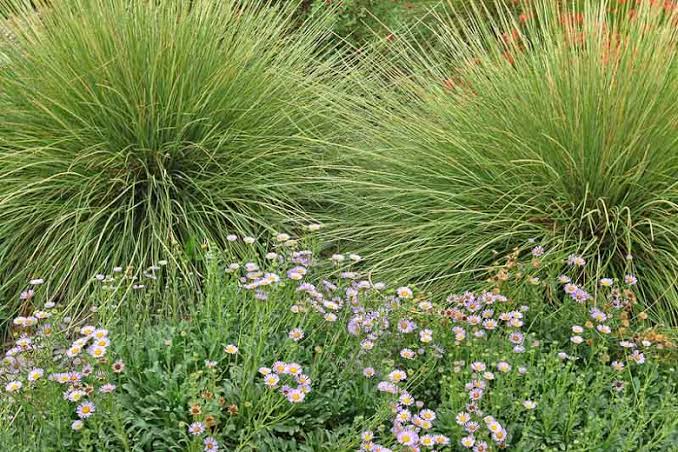 Deer grass is a highly popular clumping grass for commercial and residential plantings. This is a very robust species, growing with a mounding habit, 2-3 ft. high and 4-5ft. wide, with narrow pale green foliage. Long arching flower panicles have a cream color when they develop in late spring that fades to straw by end of summer. They grow 4-5 ft. tall and provide strong silhouette value for many months during fall and winter. In full flower, individual plants will be approximately 6 ft. wide from flower tip to flower tip. It works well to space plants closer that, but take this into account if placing deer grass near sidewalks, walkways, or driveways.
28. Lindheimer's muhly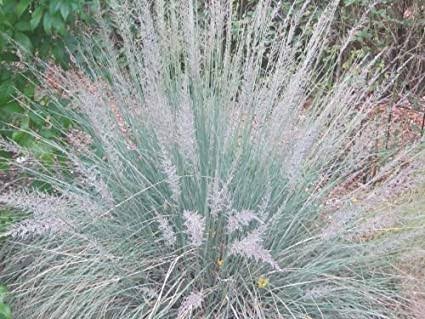 Lindheimer's muhly is a soft textured species with narrow semi-evergreen leaves that are medium green in color and provide a soft and relaxed character in garden settings. The plant's rounded to fountain-shaped canopy is composed of long-arching aqua to blue-green, strap-like, keeled leaves. The canopy is topped by 8- to 18-inch long narrow flower panicles that open with a hint of purple/red, turning silver/white to gray/white as they mature, and eventually light brown or gray/brown as seeds ripen from summer to fall.
29. Spiny-headed mat rush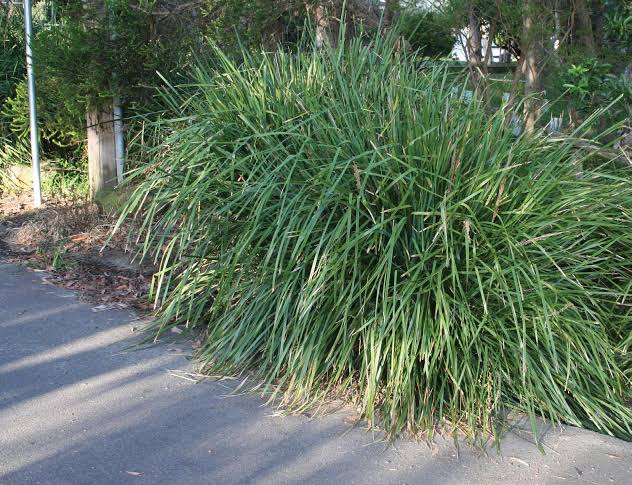 Spiny-headed mat rush is native to southern and eastern Australia and Tasmania where it grows along water courses, on hillsides and in open forest communities. It is a clumping perennial growing with a symmetrical shape, 4-5 ft. tall and as wide. Medium green foliage is comprised of flat stiff leaves; 6-8 inches long flower spikes with fragrant yellow flowers occur in spring. It has proven to be a tough and durable plant that is adaptable to wet and dry conditions and a variety of soil types.
30. Zebra grass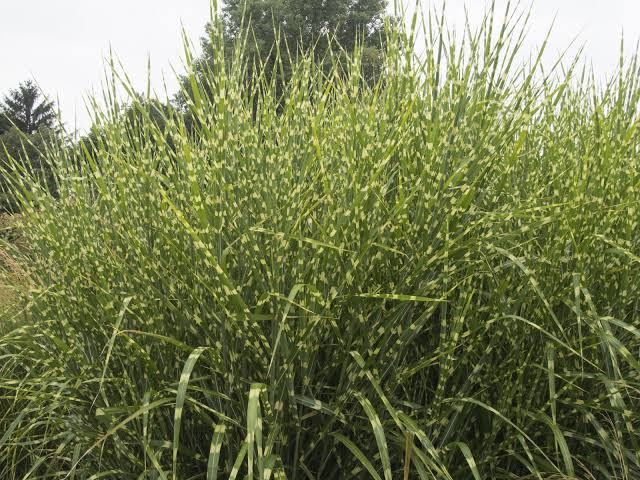 Zebra grass is one of the most popular types of tall ornamental grasses and one of the best kinds to use for privacy. Zebra grass also has stunning variegated leaves with creamy golden stripes that cut horizontally across the otherwise green blades of grass. In early fall, more and more of a golden coloration creeps into the leaves and by late fall, the leaf color becomes more of a beige. The grass is native to Asia, and though they die back in the winter, they are perennial and can return come springtime. They can grow to be quite tall, and as described, change color throughout the year.
Also Read: Bermuda Grass
31. Porcupine Grass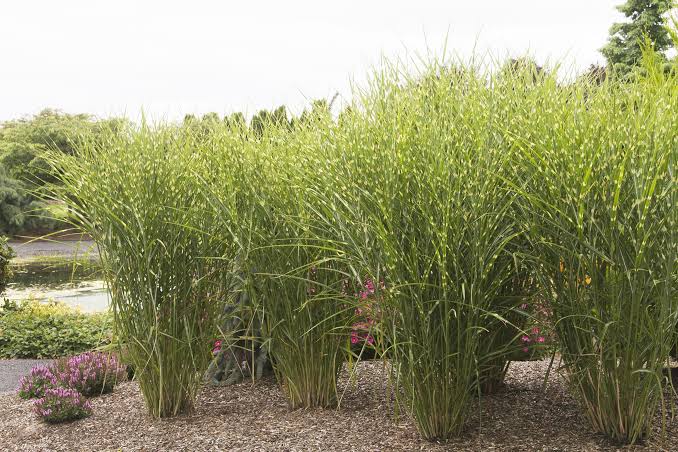 Porcupine grass also known as Japanese silvergrass, is characterized by upright green leaves with yellow, horizontal bands, this warm-season bird-attracting grass can add ornamental value to a garden or landscape. Porcupine grass is low-maintenance and can grow up to 9 feet tall and 5 feet wide.
Both porcupine grass and zebra grass are cultivars of deciduous eulalia grass.The two grasses are very similar, but you can tell them apart by examining their leaves, flowers and heights. Zebra grass is slightly shorter than porcupine grass, and grows within a shorter height range. While porcupine grass can be anywhere from 4 to 9 feet tall, zebra grass is generally only between 5 and 8.
32. Berkeley sedge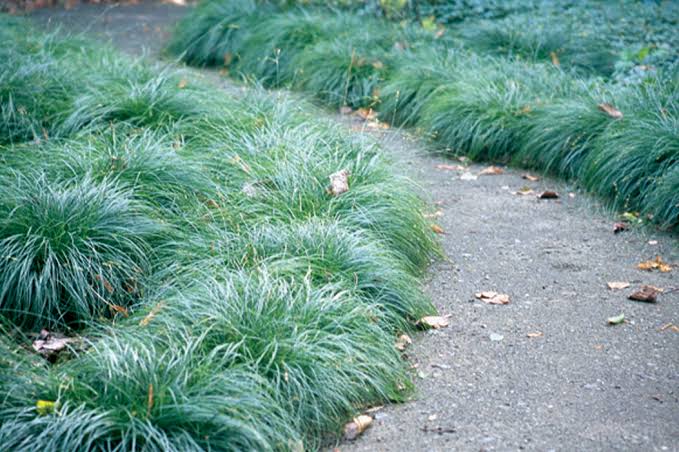 The Berkeley sedge is a hardy perennial grass-like plant with a clumping growth habit comprised of fine textured green leaves. In a few years time it develops into a graceful mounding plant to 1-1.5 ft. tall and 2-3 ft. wide. This soft textured species is a highly adaptable plant that has been used in understory areas, along pathways and on slopes for erosion control in residential and commercial landscapes.
33. Bull Grass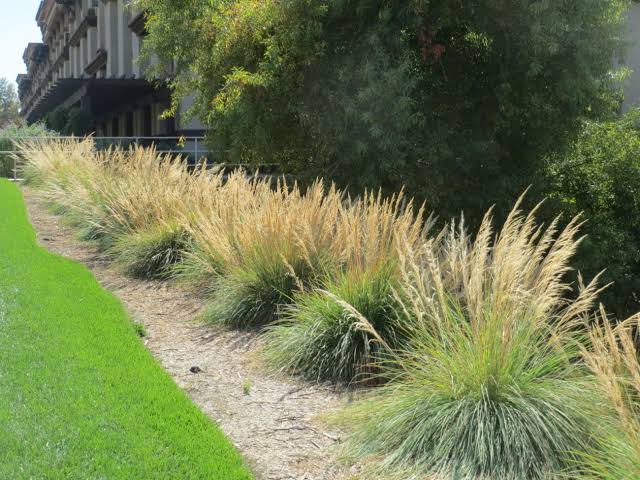 Bull grass is an evergreen clumping grass growing 2-3 ft. tall and as wide. It has fine textured pale green foliage, and produces attractive inflorescence of flowers by the end of summer. It thrives in sunny locations with normal winter rains and low amounts of summer water. It is smaller in size than the popular and robust Deer grass and as a result is better suited to smaller spaces.
34. Blue Grama Grass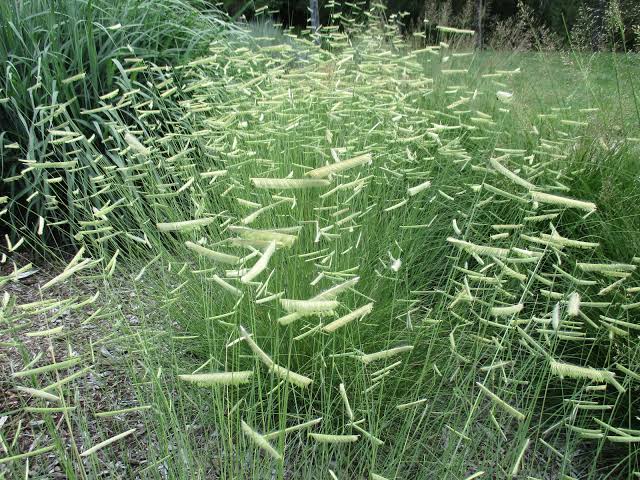 Also known as eyelash grass, blue grama grass is a warm season perennial grass that is native to North America. It grows 18 inches high with a spread of 12 inches wide and is both drought and cold tolerant. Blue grama grass is a low-maintenance and versatile decorative perennial grass with attractive eyelash-shaped bunches of flowers arranged along the stems. It grows as a bunchgrass, and is ideal for use in soils where erosion is a problem. Blue grama tolerates foot traffic and is also attractive as a container plant.
Also Read: Types of Fern Plants For Your Yard
35. Mendocino Reed Grass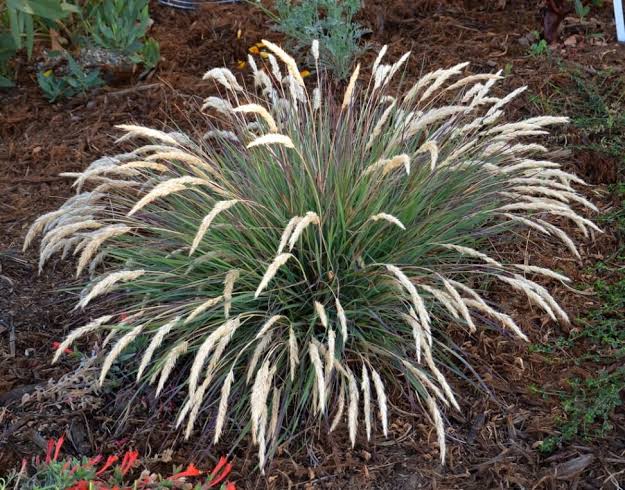 Native to the San Francisco Bay area, Mendocino reed grass is a warm season perennial decorative grass that is somewhat drought tolerant. It grows to between two and four feet high, with a spread of the same size. Mendocino reed grass' white feather-like blooms make it an attractive landscape addition, and it can be combined with fescues to add texture and variety to your ornamental planting.
36. Maiden Grass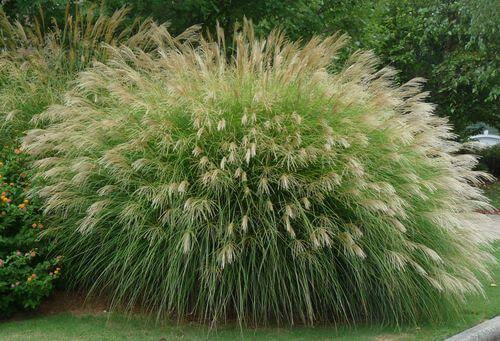 Maiden grass is a tall ornamental grass that would be worth growing for its graceful arching form alone. But it boasts other desirable features, including coppery flower heads in early fall that transform into silvery white plumes. When in flower, this clump-forming plant will reach 6 to 8 feet tall, and its stems redden in the fall. A silver stripe runs up the middle of the sword-like green leaves. Colorful panicles rise above the plant in late summer or fall, gradually drying to feathery plumes.
Ornamental maiden grass is excellent used in containers, but more commonly planted in groups, as a border, or along the edges of beds. Maiden grass has a very regal appeal and provides elegant décor to flank the front entry or along the driveway.
Also Read: Different Types of Hydrangeas
37. Indian Grass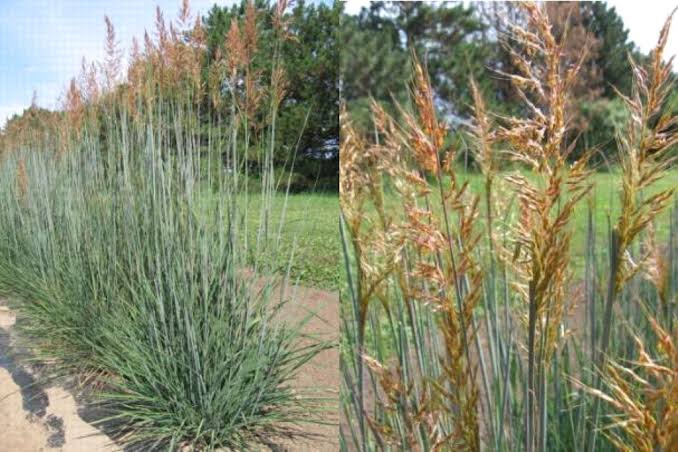 Indiagrass also referred to as yellow Indiangrass is a warm-season Northern America Praire grass. A popular ornamental grass, it works well as an upright backdrop in garden borders, or as a main mass feature when creating a natural meadow or wildlife garden. The fast-growing grass grows to be up to 6-feet tall when in bloom and the seed-heads add a splash of yellow-to-orange color from late summer to early fall.
38. Bamboo plant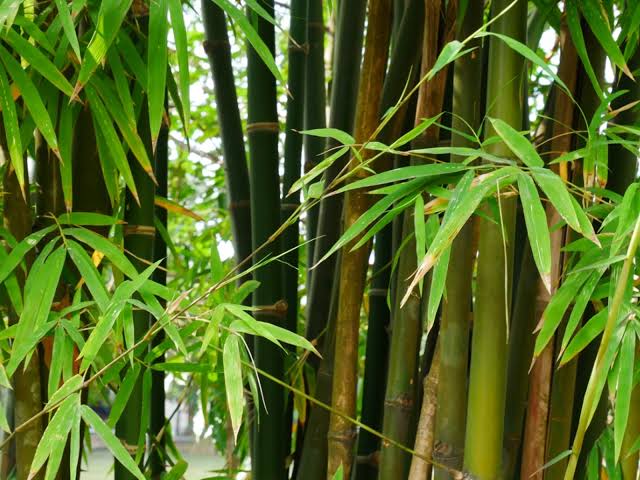 Bamboo plant is generally categorized as an ornamental grass and not a tree because it does not feature tree-like growth, instead reaching its full height in a single growing season and persistently sticking to its mature diameter rather than expanding. Also, bamboo does not feature a bark, instead leaves form around the culm to offer protection.
Bamboo culms can grow up to 10 inches in diameter and vary in strength from soft and stem-like to smooth, hard and impressively straight, resembling poles. Some culms even spot thorns. Bamboo also vary in color from green to yellow to nearly black, including instances of stripes and patterns and sports a huge range of leaf sizes and textures.
Further References
Ornamental Grasses: https://www.homestratosphere.com/types-of-ornamental-grass/
Ornamental Grass Varieties: https://hgic.clemson.edu/factsheet/ornamental-grasses-and-grass-like-plants/
Facts About Ornamental Grasses: https://web.extension.illinois.edu/grasses/types.cfm