The Crabapple trees can be divided into two broad types, those typically grown for their fruit crop and those grown primarily for their showy springtime flowers. Crabapple fruit is green or red. Some species and cultivars have orange and pink blushes. The small fruits are 2 inches or fewer in diameter, and the tree leaves are shorter and narrower than those of apple trees. If not picked, crabapples stay on the trees and retain their vibrant colors throughout winter, providing a colorful contrast to the starkness of other plants during the season.
The blossoms that appear in spring and summer can have single, double or semi-double flowers. The centers of crabapple flowers have yellow stamens. Some crabapples bloom profusely only every other year. During spring, pink or red buds among glossy green leaves open to aromatic blossoms in hues of white, pink or red. During autumn, the foliage turns brilliant autumn colors and fruit appear.
The bark of crabapples tends to be grayish brown and scaly, making it simple to peel off. Crabapple trees generally grow 15 to 25 feet tall with an equal canopy width, providing gardeners with mid-size trees that don't tower over their homes. The trees grow 8 to 10 inches per year, depending on the species or variety.
Crabapples are also useful as median trees where the fruit will fall away from pedestrians. Placed in the lawn area as an accent so that they receive occasional irrigation, Crabapple will give you years of wonderful flowers and showy fruit. Set it back as far as possible so that the crown will not overhang the walk, but close enough so enough so the flowers and fruits can be enjoyed.
For many years, crabapple cultivars have been selected on the basis of their flowers, but with some cultivars, undesirable features, such as disease problems and early fruit drop, outweigh their short-lived spring beauty. No single cultivar can fulfill every landscaping need. Here are some of the Varieties:
Dolgo Crabapple
Robinson Crabapple
Prairifire Crabapple
Profusion Crabapple
Sweet Crabapple
Siberian Crabapple
Sargent Crabapple
Florentine Crabapple
Centurion Crabapple
Royalty Crabapple
Centennial crabapples
Pink Princess crabapple
Red-Jade crabapple
Flowering Tea Crabapple
Japanese Flowering Crabapple
Columnar Crabapple
Flame Flowering Crabapple
Sugar Tyme Flowering Crabapple
Radiant Crabapple Trees
Marilee Crabapple Trees
Whitney Flowering Crabapple
Hopa Flowering Crabapple
European Crabapple
Arnold Crabapple
Types/Varieties of Crabapple
Robinson Crabapple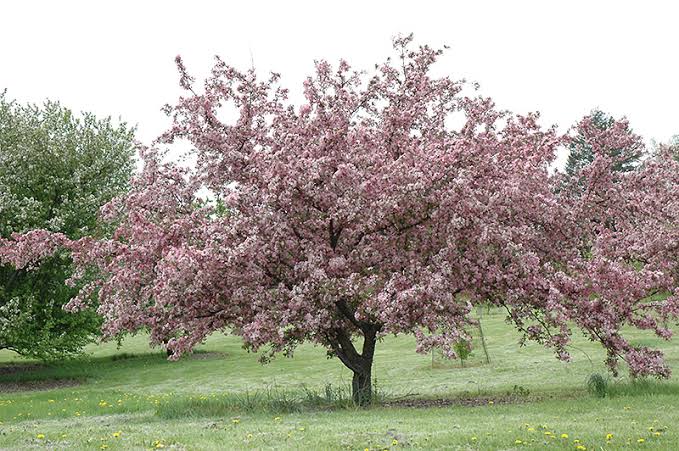 The Robinson crabapple is among the fastest-growing of the crabapple varieties. These trees can reach a height of 25 feet and a spread of 25 feet in width. The blossom in the spring, producing crimson buds that develop into deep pink blooms. The fruits, which average 3/8 inches in diameter and mature in the fall, are dark red in color, while the foliage is bronze-green with red veins. Compared to other crabapple species, the Robinson crabapple is quite resistant to scab, fire blight, rust and powdery mildew.
Dolgo Crabapple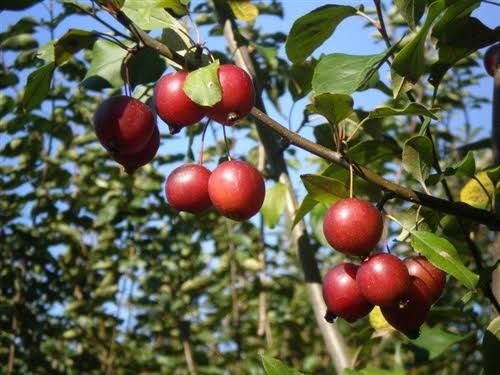 The Dolgo Crabapple is a beautiful crab tree that has good cold tolerance and a high level of disease resistance. It's rather large for crabapples maturing to around 40 feet tall and 25 feet wide. It has a nice rounded tree form with beautiful white flowers. In spring, the tree is covered with white flowers and its green shiny leaves begin to form. Due to the long bloom time of its flowers, its a good pollinator for many other types of crabapple and apple trees. The Dolgo Crabapple produces a heavy crop of large 1 – 1.5″ olive shaped crabapples. These crabapples are crimson in color and very flavorful.
Prairifire Crabapple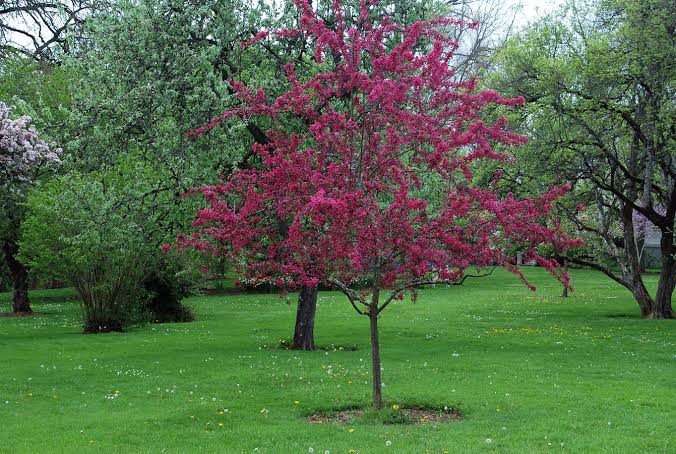 Prairifire'is an upright, broad-rounded deciduous tree with a long season of interest. Its reddish-gray bark highlights bright-green summer foliage. In late summer and fall, its leaves become orange and hungry birds feast on its berry-sized, purple-red fruit that lasts into winter. 'Prairifire' makes a striking accent plant or espalier. Planted in colonnades along walks and driveways, it leaves an indelible impression. With appropriate care, largely disease-resistant 'Prairifire' grows 1 foot per year to a 15- to 20-foot mature height and spread.
Profusion Crabapple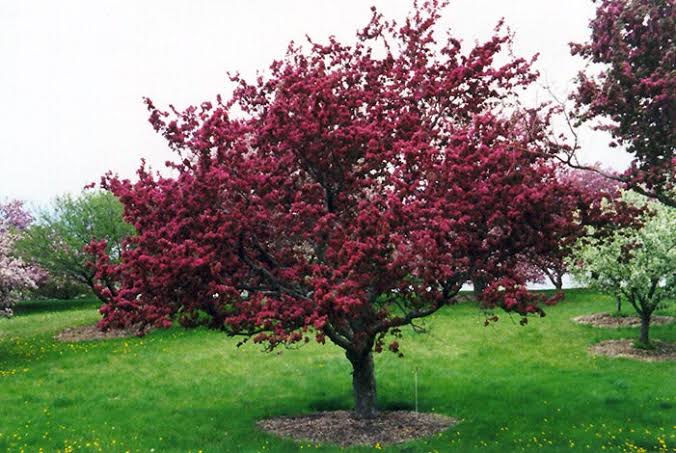 The Profusion Crabapple is a stunning tree with a mature height of 15 to 20 feet and a width of 15 to 25 feet, making it a perfect focal tree for almost any yard. The Profusion Crabapple thrives in full sun and just about any type of soil. It is also disease and pest resistant, low maintenance, and extremely hardy. In autumn, the Profusion Crabapple blooms have developed into lovely dark maroon fruit that attracts local songbirds to your yard. The persistent red fruit hangs like decorative ornaments through the fall and winter.
Also Read: Different Types of Maple Trees
Siberian Crabapple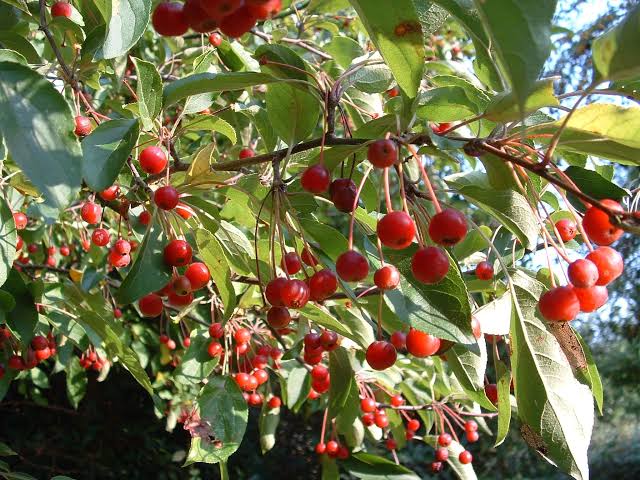 Siberian crabapples are known botanically as Malus baccata, part of the Rosaceae family. The Siberian crabapple is often used for experimental breeding and grafting of other crab apple varieties because of its cold hardiness. The Siberian crabapple grows into a lovely rounded canopy of spreading branches. The very fragrant blooms appear in great abundance, and the single 1.5-inch-diameter flowers are pink when in bud but open up to white. This variety produces less fruit than mostcrabapples. The fruits are brightly acidic with a slightly softer texture.
Sargent Crabapple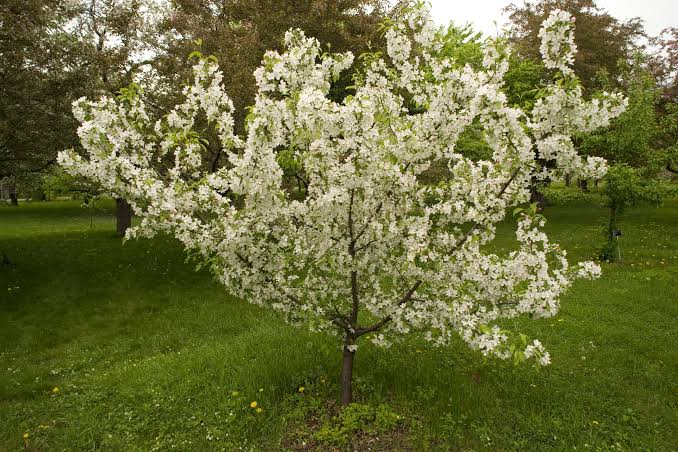 Sargent crabapple is a dwarf, deciduous tree, forming a dense, wide-spreading, irregularly-rounded silhouette, six to eight feet high by 8 to 10 feet wide. Also known as Malus sargentii, this Crabapple is a popular landscaping tree around houses and parks due to its stunning spring blooms and relatively low-maintenance care requirements. During spring time, the tree grows buds that are deep pink in colour. They eventually become white flowers and are known by the pleasantly fragrant aroma that they are capable of spreading. Though the individual flowers are just about an inch wide, they grow in large clusters making them look quite beautiful. The flowers generally appear to be covering the entire tree.
Also Read: Different Types of Cherry Trees
Florentine Crabapple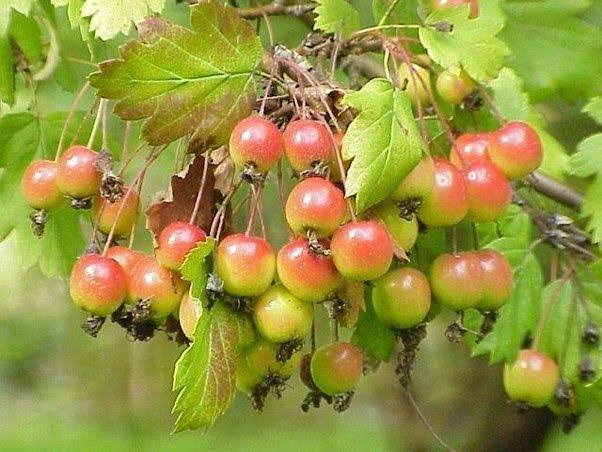 The Florentine Crabapple ( Malus florentina ) also known by the name hawthorn-leaf crabapple is an outlandish-looking tree with lobed, hawthorn-like leaves, rough to the touch and grey beneath. Its small fruits have deciduous calyces. Although it has mainly been planted in specialist collections, it has real ornamental value, making a rounded crown, with white flowers usefully late in May or even June.
Centurion Crabapple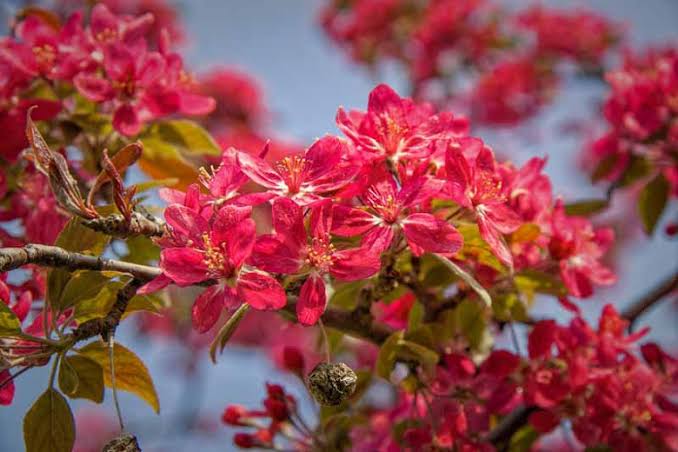 The Centurion Crabapple is a small to medium-sized tree, reaching no more than 25 feet tall, and spreading in time to about 20 feet across. Its branches form an attractive crown, strongly branched and shaped like an inverted pyramid. The bark is mottled in shades of brown, seen most effectively in winter. The tree grows at a medium rate, and under ideal conditions can be expected to live for 50 years or more. Centurion Flowering Crab is covered in stunning clusters of fragrant rose flowers along the branches in mid spring, which emerge from distinctive red flower buds before the leaves. The fruits are showy crimson pomes carried in abundance from early to late fall. It has coppery-bronze-tipped dark green foliage throughout the season. The pointy leaves turn yellow in fall.
Royalty Crabapple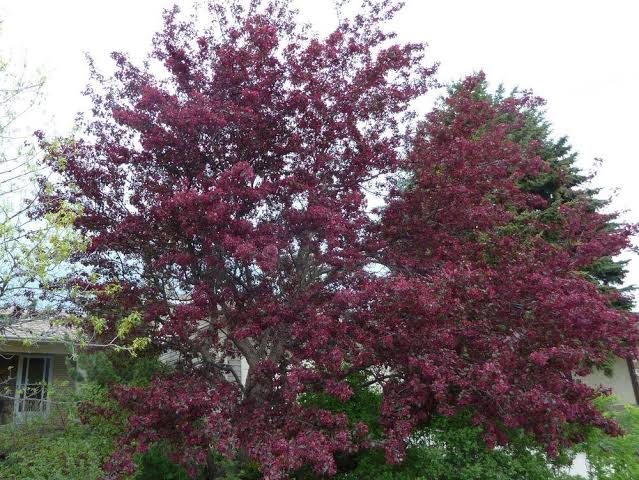 The Royalty Crabapple is an outstanding ornamental with single, dark red blossoms in spring that produce large, dark red fruit in the fall. The new foliage is a glossy rich purple with a green undercast, turning purple-green in mid-summer and brilliant purple in the fall. This very hardy, blight resistant crabapple has beautiful foliage with the leaves having a bright, varnished appearance and nice purple fall color . It prefers full sun and moist, well drained soil. This upright, vigorous growing tree provides three-season interest for visual enjoyment. It's low maintenance, and the fruit is wonderful for wildlife since it hangs on until wintertime.
Also Read: Major Types of Eucalyptus Trees
Pink Princess Crabapple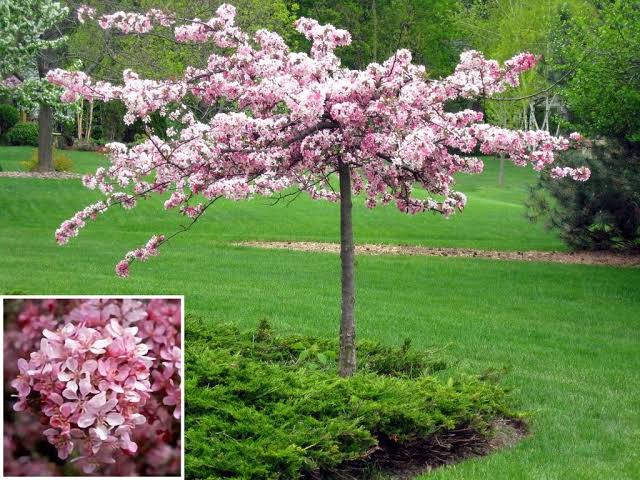 Pink Princess' is a dwarf form of Sargent crabapple. Although it may be grown as a short tree (up to 8 feet tall), it is perhaps more typically grown as a broad-spreading, horizontally-branched, slightly pendulous, multi-stemmed shrub. Purplish buds open in spring to rose-pink flowers which are followed by small, deep red crabapples which mature in fall and persist into winter. The pea-sized fruits are sweet-flavored like rose hips, but are not usually used in cooking. Birds find the small fruits quite attractive, however. Ovate, lobed leaves emerge purplish red in spring, mature to dark green and then turn yellow in autumn.
Flowering tea Crabapple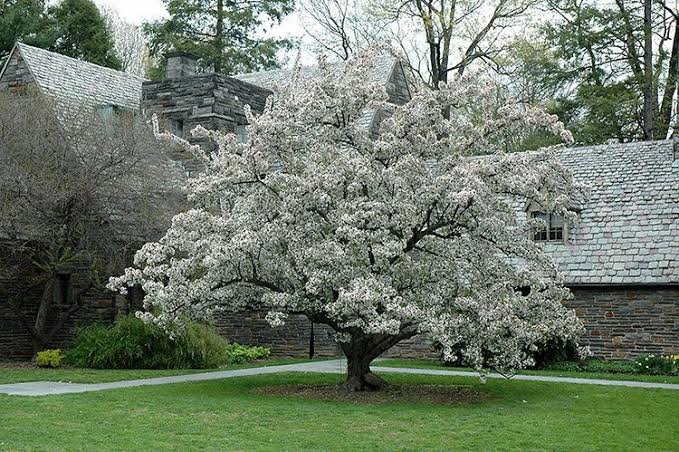 Flowering tea crabapple is composed of strong, spreading branches that form a broad, vase-shaped silhouette, 15 to 20 feet tall and 20 feet wide. The main branches are usually trained to grow from one point on the trunk and these grow long and branch infrequently, forming an open canopy that allows light to easily pass. Abundant fragrant, light pink to white blooms appear in springtime, each 1.5-inch-diameter blossom starting out as a tight, deep pink bud. The small, .5-inch fruits which follow are outstanding, their greenish-yellow faces endowed with blushing red cheeks. Fruit is very attractive to birds. The dark grey/brown, flaking bark is quite attractive and is shown off to its best advantage when the trees are grown in containers or as an espalier.
Japanese Flowering Crabapple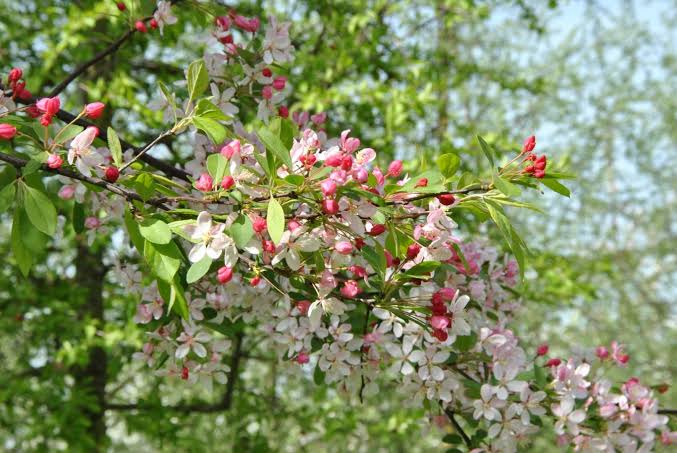 This is one of the best crabapples for form and flower, reaching 15 to 25 feet in height and creating a broad, rounded, densely-branched canopy. The bare branches will be covered in clusters of dark red buds that open to light pink blossoms, making one of the most beautiful spring displays possible. A good substitute for Japanese flowering cherry trees in colder zones, with the bonus of a bright display of dark red, cherry-like fruits in fall. The dark-green leaves turn yellow and red in fall. From August to October, the yellow and red fruits appear, providing a popular food for wildlife or they can be harvested to make a delicious jelly. You can plant it in open spaces, on lawns or at the back of shrub beds.
Sugar Tyme Crabapple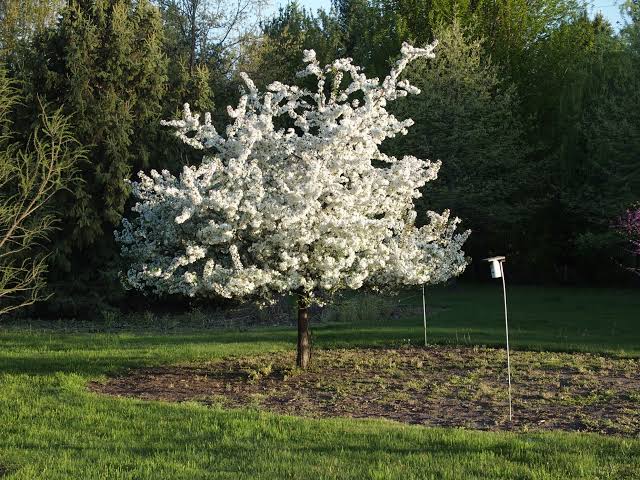 Sugar Tyme is a very popular crabapple variety. They have an upright habit with an oval crown. They can reach a height of 20 feet with a 15-foot spread. With ruby red fruit in fall through winter, beautiful green foliage through the season that turns a striking shade of bronzed-yellow in fall, and charming white flowers in spring, these deciduous trees look spectacular all year long. Si gar Tyme is normally planted as a potted nursery specimen in the fall, or sometimes as a bare root tree. Compared to other crabapple cultivars, it is relatively fast-growing but short-lived. Sugar Tyme reaches flowering and fruiting maturity within three to five years, but the lifespan is rarely more than a couple of decades.
Also Read: Different Types of Japanese Maple Trees
Radiant Crabapple Trees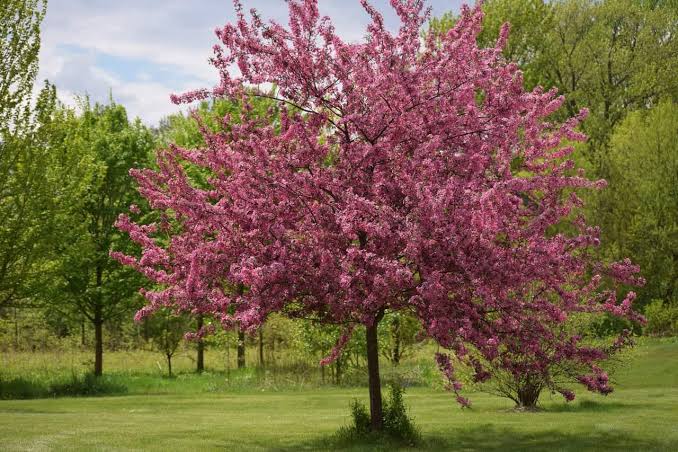 Radiant crabapple trees have deep-pink blossoms and small, red fruits that attract birds during winter. Their foliage has a purple hint when new and takes on a bronze-green color later in the season. Radiant crabapple trees have a round, sprawling shape, which makes them an excellent choice for shade. They'll tolerate partial sunlight, making them a good choice for a yard with existing shade trees.
Whitney Flowering Crabbapple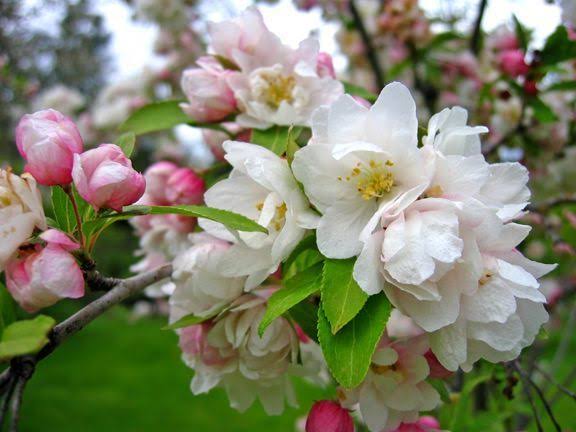 Whitney Flowering Crabbapple is draped in stunning clusters of fragrant white flowers along the branches in mid spring, which emerge from distinctive red flower buds before the leaves. It has dark green foliage throughout the season. The pointy leaves turn an outstanding yellow in the fall. The fruits are showy red apples with hints of yellow, which are carried in abundance from late summer to late fall. The fruit can be messy if allowed to drop on the lawn or walkways, and may require occasional clean-up.
Hopa Flowering Crabbapple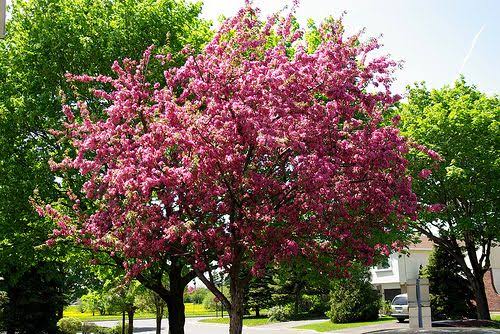 Hopa Flowering Crabbapple is clothed in stunning clusters of fragrant rose flowers with white centers along the branches in mid spring, which emerge from distinctive purple flower buds before the leaves. The fruits are showy red pomes carried in abundance in early fall. The fruit can be messy if allowed to drop on the lawn or walkways, and may require occasional clean-up. It has dark green foliage throughout the season. The pointy leaves turn yellow in fall. Its average texture blends into the landscape, but can be balanced by one or two finer or coarser trees or shrubs for an effective composition.
European Crabapple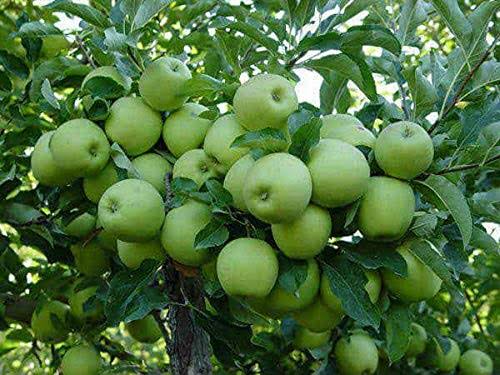 European crab apple is a small and thorny, native wild tree, which is distributed over most of the European countries, including all the Nordic countries except Iceland. Its scientific name, Malus sylvestris, means "forest apple". It is found growing as single individuals or in small groups in forest edges, thickets, hedgerows or roadsides. The Tree is a deciduous tree, it will be up to 10 m (33 ft) high. The leaves are ovoid and the flowers are white – pink.
Also Read: Trees With Beautiful Fall Color
Flowering Flame Crabapple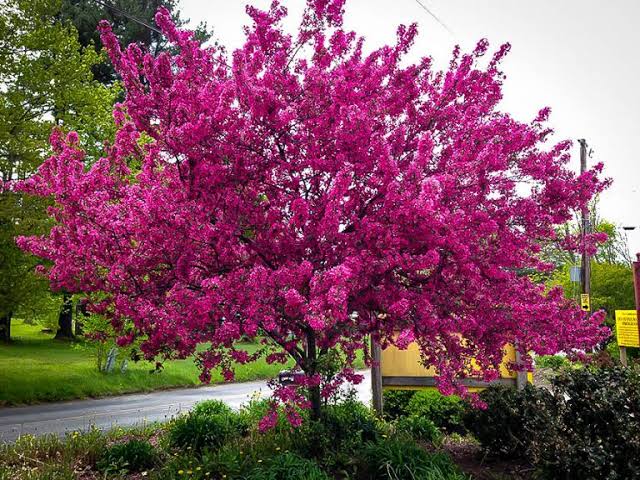 The name 'Flame' is for their bright red fruit that they get in late summer lasting into fall and even winter. It also has unique semi weeping branching but still keeps a narrow tight form making it a good fit for smaller spaces. Even with these often over looked features you will still get the eye catching beauty in the spring with bright pink buds that pop open into fragrant white flowers that seem to take over the tree.
Further References
References
1. Morton Arboretum,Crabapple: A Tree For All Seasons
2. Siberian Crabapple –Malus baccata, Morton Arboretum acc. 366-88*1, photographed by Bruce Marlin
3. Morton Arboretum,Crabapples for the Home Landscape
4. USDA, ARS, National Genetic Resources Program. (GRIN),Malus baccata
5. Edward F. Gilman and Dennis G. Watson, USDA Forest ServiceST-397Malus baccataSiberian Crabapple. Glausiusz, J., 2014. Apples of Eden: Saving the Wild Ancestor of Modern Apples,National Geographic, May 9, 2014. Available at:http://news.nationalgeographic.com/news/apples-of-eden-saving-the-wild-ancestor-of-modern-apples/